Description
KEF Blade Two Meta HiFi 揚聲器
介紹 KEF 的著名 Blade 系列的最新成員 — Blade Two。Blade Two 在 Blade One 的基礎上不斷優化,保持了同樣的音效和經典設計,但尺寸略微縮小。 Blade Two 搭載單一明顯聲源技術,四個強大的低音單體和第12代Uni-Q®聲音單元陣列,配備MAT™技術,提供無與倫比的音質。體驗 Blade Two 帶來的尖端音效。
獨特的KEF技術,絕佳的音效和諧度
Blade的核心技術是單一明顯聲源技術,旨在實現點源聲學理想,即低、中、高頻從一個點輻射。這是使Blade音效非常協調,並具有明顯更精確的成像效果的關鍵。
如此純粹,如此 KEF
最新版本的Blade採用我們最新的聲學創新: Metamaterial Absorption Technology (MAT™)。MAT™是一種高度複雜的迷宮狀結構,可以吸收99%來自驅動器後方的不需要聲音,消除由此產生的失真,提供更純淨、更自然的聲音。
坐在任何地方,聽到每一個細節
經過多次優化,最新版Blade的Uni-Q®聲音單元陣列是搭載MAT™的第12代Uni-Q®。Uni-Q®作為單一明顯聲源,可以更均勻地分散聲音到整個房間。結果是消除了限定的「皇帝位」,讓房間中不同位置的每個人都能體驗和享受同樣自然、詳細的音效。
設計驅動的卓越表現
以追求最精確、最逼真的音效為理念,Blade的目標是完善一個開創性的概念,為人們帶來極致的聆聽體驗,讓人心醉神迷。
掌控強大的力量
Blade的四個強大低音單體是背對背安裝的,以消除可能影響其輸出的動能力。結果是更清澈、更純淨的聲音,令人驚嘆的低頻共鳴。
尖端音效
Blade的四個強大通風低音單體與搭載MAT™的第12代Uni-Q®聲音單元陣列完美融合,提供乾淨、精確控制的低音。最新版Blade的交叉頻率設計已經優化,以微調信號路徑,實現最大清晰度。
專屬音響空間,純淨音效
Blade上,每對低音單體位於自己的音響空間。這種設計方式減少了驅動單元之間的干擾,同時減少了減震的需求,減少了對低音質量的影響。
英國Maidstone製造
自1961年以來,我們一直在英國肯特郡的Maidstone製造出色的獲獎揚聲器。作為我們的旗艦HiFi揚聲器,Blade今天仍在Maidstone進行設計、工程和手工製作。
第一代Blade
我們的KEF產品設計團隊最初與ECCO Design的Eric Chan合作,創造了一個獨特的視覺形象,以匹配Blade卓越的性能。結果,機箱形狀的靈感來自Brancusi的開創性現代主義傑作《空中的鳥》。從前到後,從上到下優美地逐漸收窄,由於低音單體的定位,使得Blade獨特的比例給人一種雕塑般的存在感。
完美的鑄造
Blade提供八種配色選擇,由五種機箱鑄造配色和六種Uni-Q®聲音單元陣列的顏色組合而成。您可以選擇三種高光機箱表面處理,其對應的Uni-Q聲音單元陣列顏色分別為:北極白/香檳色、鋼琴黑/銅色、鋼琴黑/灰色以及赤紅/灰色;或者選擇兩種啞光機箱表面處理,其對應的Uni-Q聲音單元陣列顏色分別為:炭灰色/銅色、炭灰色/紅色、冰原藍/銅色、冰原藍/藍色。
無盡的選擇
如果您想要用Blade營造獨特的風格,或者正在尋找與您的聽音室完美搭配的顏色,只需提供您選擇的Pantone色彩代碼,配合六種標準Uni-Q®聲音單元陣列顏色之一,就可以輕鬆創建自己的定制色彩方案。
體驗Blade
最好的證明是親身聆聽。只有聆聽Blade卓越的音效,才能真正體會這個揚聲器的能力。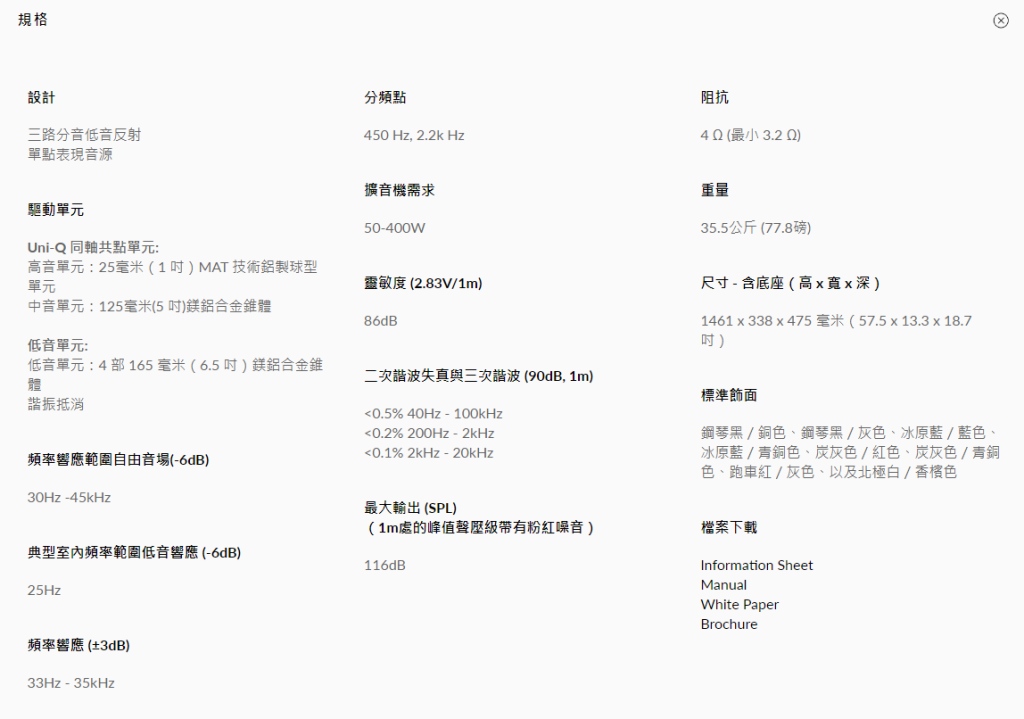 KEF Blade Two Meta HiFi Speakers
Introducing Blade Two, the newest addition to KEF's iconic Blade series. Building upon the success of Blade One, Blade Two offers the same acoustic excellence and signature design, but in a slightly smaller form factor. With Single Apparent Source technology, four powerful bass drivers, and the 12th generation Uni-Q® driver array with MAT™, Blade Two delivers unparalleled sound quality. Experience the forefront of audio technology with Blade Two.
Uniquely KEF, Uniquely coherent
Blade's core technology is the Single Apparent Source, which aims to achieve a point source acoustic ideal where all frequencies, including low, mid, and high, radiate from a single point. This unique technology results in an incredibly coherent sound with noticeably more precise imaging.
So pure, So KEF
The latest iteration of Blade incorporates KEF's newest acoustic innovation: Metamaterial Absorption Technology (MAT™). Utilizing a complex maze-like structure, MAT™ absorbs up to 99% of unwanted sound from the rear of the driver, effectively eliminating distortion and producing a more natural and pure sound.
Experience every detail from any seat with our sound system
The latest version of the Blade features the 12th generation Uni-Q® driver array with MAT™, which has been refined through multiple iterations. The Uni-Q® driver array serves as a single point source, dispersing sound evenly throughout the room and eliminating the limited "sweet spot." This allows everyone in the room to experience and enjoy the same natural and detailed sound, regardless of where they are seated.
Performance by design
Blade embodies the philosophy of pursuing the most accurate and realistic sound through innovative design. It aims to perfect a groundbreaking concept that provides listeners with the ultimate listening experience, delighting them with unparalleled sound quality.
Power in control
Blade's four powerful low frequency drivers are arranged in a back-to-back configuration to cancel out any kinetic forces that could affect their output. This design results in cleaner and purer sound quality, as well as an impressive low-level resonance.
Cutting edge sound
Blade's four vented bass drivers are expertly integrated with the 12th generation Uni-Q® with MAT™, producing clean and immaculately controlled bass. The latest version of Blade features an enhanced crossover design that fine-tunes the signal path to maximize clarity.
Discrete chambers for pure sound
In the Blade sound system, each pair of low frequency drivers is housed in a separate chamber to minimize any potential interference between the drive units. This design also reduces the need for damping, which can negatively impact the bass quality.
Made in Maidstone, UK
For over six decades, we have been producing exceptional award-winning loudspeakers at our UK headquarters in Maidstone, Kent. Even today, Blade, our flagship HiFi speaker, continues to be designed, engineered, and handcrafted in Maidstone, continuing our tradition of quality and craftsmanship.
the first blade
Our KEF product design team collaborated with Eric Chan of ECCO Design to develop a unique visual identity that would match Blade's exceptional performance. The cabinet's design was inspired by Brancusi's modernist masterpiece "Bird in Space," resulting in a gracefully tapered form that narrows from top to bottom and front to back. The slim proportions, made possible by the orientation of the bass drivers, give Blade a sculptural presence that stands out on its own.
Finished to Perfection
Blade offers a range of eight finishes, created by combining five cabinet finishes with six Uni-Q® driver cone colors. Customers can choose from three high-gloss cabinet finishes with matching Uni-Q driver cone colors: Arctic White/Champagne, Piano Black/Copper, Piano Black/Grey, and Racing Red/Grey. Alternatively, two matte satin cabinet finishes are available with matching Uni-Q driver cone colors: Charcoal Grey/Bronze, Charcoal Grey/Red, Frosted Blue/Bronze, and Frosted Blue/Blue.
Limitless Choice
If you're hoping to make a unique statement with Blade or searching for the perfect color match for your listening room, you can easily create a custom color scheme by providing a Pantone color code of your choice for the speaker enclosure to match with any of the six standard Uni-Q® driver cone colors.
Experience Blade
The ultimate way to understand the capabilities of Blade loudspeaker is to listen to it in all its glory. The proof is in the listening, and experiencing Blade firsthand is the only way to fully appreciate its exceptional sound quality.