Description
EB-800F 超短投雷射投影機
Epson EB-800F 超短投雷射投影機 是一款高性能的投影機,它採用可靠的雷射光源和超短距投影技術,讓投影機具有更多的應用方案。EB-800F的1080P解像度1和最大投影範圍高達130″,加上5,000流明2的色彩和白色亮度,即使在室內燈光亮度較高的環境下投影,畫面依然清晰明亮。此外,EB-800F的雷射光源壽命長達20,000小時,大大減少了維護的煩惱4。
除此之外,EB-800F 超短投雷射投影機 採用Epson 3LCD投影技術,具有穩定可靠的雷射光源,能夠在長時間使用中保持穩定的色彩和亮度。超短距投影技術使得EB-800F能夠在狹小的空間中進行大屏幕投影,無需擔心影像變形的問題。另外,EB-800F還配備了自動校正功能,可以自動調整投影畫面的大小和形狀,讓您輕鬆享受高品質的投影體驗。
EB-800F 超短投雷射投影機 支援多種連接方式,包括HDMI、USB、VGA等,可以輕鬆連接各種設備進行投影,如電腦、手機、平板等,滿足不同場合的需求。此外,EB-800F還支援無線投影功能,使用者只需將手機或電腦連接至投影機的Wi-Fi熱點,即可輕鬆實現無線投影。
注意事項:
*在正常模式下使用時,預計投影機的使用壽命為20,000小時。實際時間可能會因模式和使用環境而異。
1. EB-800F利用像素提升技術達到1080P解像度
2. 色彩亮度(彩色光輸出)和白色亮度(白光輸出)將根據使用條件而變化。彩色光輸出根據IDMS 15.4測量;白光輸出根據ISO 21118測量
3. 要使用Epson iProjection,必須在網絡上配置投影機。Epson投影機可以通過投影機上的以互聯網(請檢查型號規格是否可用)或通過無線連接。檢查您的用戶手冊以確定是否需要購買無線LAN配件才能在Epson投影機上啟用無線連接。非所有愛普生投影機都能夠連接聯網。可用性因型號而異,並非所有文件和格式能夠顯示
4. 雷射光源組件的免維護期間為20,000小時,當中有可能需要更換其他零件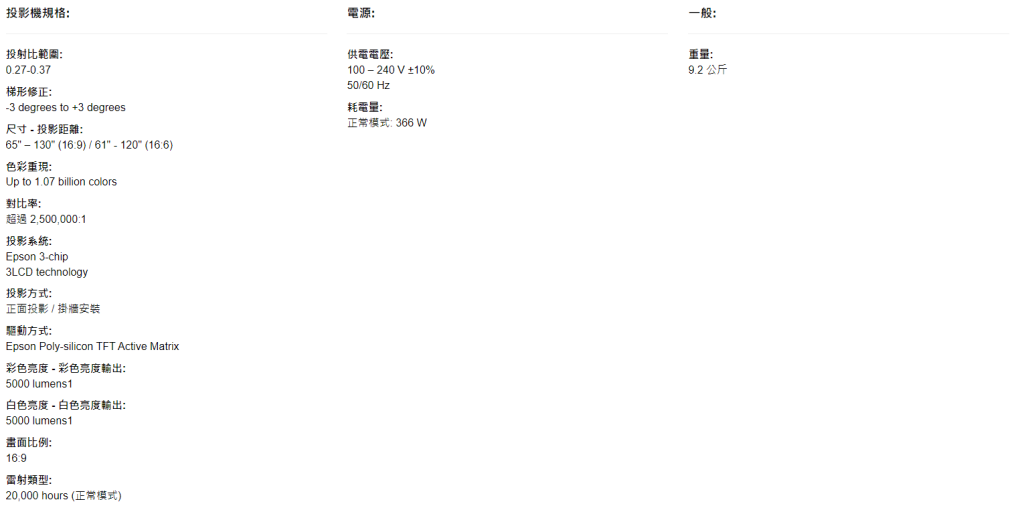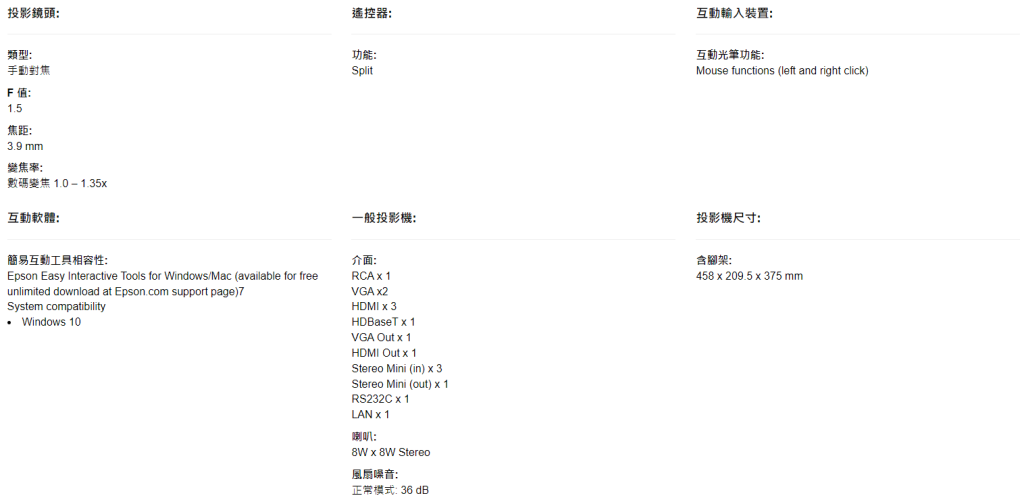 EB-800F Laser Ultra-Short Throw Projector
The Epson EB-800F laser ultra-short throw projector is a high-performance device that uses a reliable laser light source and ultra-short throw projection technology, providing a wide range of applications. With 1080P resolution1 and a maximum projection range of up to 130″, combined with color and white brightness of 5,000 lumens2, it delivers clear and bright images even in environments with high indoor lighting. Additionally, the laser light source of the EB-800F has a lifespan of up to 20,000 hours, significantly reducing maintenance concerns4.
On top of that, the EB-800F laser ultra-short throw projector uses Epson 3LCD projection technology, which features a stable and reliable laser light source that ensures consistent color and brightness during prolonged use. The ultra-short throw projection technology enables the EB-800F to perform large-screen projection in small spaces without the problem of image distortion. Moreover, the EB-800F is equipped with an automatic correction function that can adjust the size and shape of the projected image automatically, providing an easy and high-quality projection experience.
The EB-800F laser ultra-short throw projector supports various connection methods, including HDMI, USB, VGA, and more, making it easy to connect to various devices such as computers, phones, and tablets to meet the needs of different occasions. Additionally, the EB-800F also supports wireless projection, where users can wirelessly connect their mobile devices or computers to the projector's Wi-Fi hotspot for easy and convenient wireless projection.
Notes:
* 20,000 hours is the estimated life of laser light source when used in Normal Mode. Actual hours may vary depending on mode and usage environment.
1. EB-800F uses Pixel Shift Technology to achieve Full HD Resolution on screen
2. Color brightness (color light output) and white brightness (white light output) will vary depending on usage conditions. Color light output measured in accordance with IDMS 15.4; white light output measured in accordance with ISO 21118
3. To use Epson iProjection, the projector must be configured on a network. Epson projectors can be networked either through the Ethernet port on the projector (check model specifications for availability) or via a wireless connection. Check your owner's manual to determine if a wireless LAN module must be purchased separately to enable wireless connection on your Epson projector. Not all Epson projectors are able to be networked. Availability varies depending on model. Not all files and formats are supported. See ww.epson.com for details
4. No maintenance for the light source required up to 20,000 hours. Replacement of parts other than the light source may be required in a shorter period