Description
LG LAEC015 All-in-One Smart 多合一顯示器系列
多合一顯示器 LG LAEC015 All-in-One Smart 系列是一款專為辦公環境打造的高效、智能的顯示器,其多樣化的功能和特點為用戶提供更全面的解決方案。此款顯示器採用1.56毫米的像素間距和136吋全高清屏幕,提供清晰、細膩的影像和文字。搭配500nit的亮度,即使在明亮的環境中也能保持出色的顯示效果。
LG All-in-One Smart 多合一顯示器內置系統控制器、喇叭和四核心 SoC,無需再連接控制器或配置模組。此外,多合一顯示器還配備了LG WebOS智能平台,支持Crestron Connected®,帶來更加順暢的使用體驗。同時,這款顯示器還支持與LG One:Quick Share或LG Magic Remote搭配使用,讓用家更方便地掌控和共享內容。
LG All-in-One Smart 多合一顯示器的安裝簡易,並附送磁性維修工具,用家可自行進行維修,無需佈線即可快速更換 LED 模組。此外,該產品還可以加配額外的專用配件,包括掛牆架和電動支架,實現更加靈活的使用體驗。
All-in-One LED顯示器
All-in-one Smart 系列是 136 吋多合一 LED 顯示器套裝,配備內置控制器及喇叭。安裝簡單,使用遙控器便可開啟屏幕,無需再連接控制器或配置模組。如同使用家用電視一樣輕易,消除大眾對 LED 顯示器安裝困難和操控複雜的負面印象。
超卓效能 配備 webOS
內置四核心 SoC (單晶片系統),能夠同時執行多項任務,仍然保持播放流暢。此外,LG WebOS 智能平台透過直覺式 GUI 為用戶帶來更多便利,並為 SI 和開發人員提供簡單的應用程式開發工具*,如 SDK (軟件開發套件)、SCAP、應用程式範本等。
* webOS 顯示屏開發人員網站 (https://webossignage.developer.lge.com) 提供SDK 工具和文檔,可建立在 LG 顯示屏上使用的應用程式。僅對合作夥伴開放。
LG One:Quick Share
LG One:Quick Share 是無線屏幕共享解決方案。使用 All-in-one Smart 系列、USB 傳輸設備及其應用程式,無需遙控器,只需透過其 USB Dongle 按鈕及內置 Wi-Fi*,便可在顯示屏上共享個人電腦屏幕,亦可在應用程式上調整所連接顯示屏的基本設定值 (音量、畫面模式、自動亮度等)。使用辦公室會議模式**,可於會議開始前顯示議程及筆記。
* 用戶須在顯示屏網絡選單中設定 Soft AP。
** 用戶可在顯示屏的 EZ 設定選單中啟用辦公室會議模式。
*** LG One:Quick Share 需另行購買。
簡易安裝
All-in-One Smart 系列非常簡單就能夠安裝。將隨機附帶的兩個機架固定好位置,再將每個 LED 顯示模組連接,最後插入電源線。
安裝簡易,節省時間和人力,用家輕鬆就可以開始操作 LED 屏幕。
*需要額外固定螺絲或安裝掛牆架/配件。
維修簡易快速
如 LED 模組或系統板部分出現故障,可以直接從顯示屏的正面進行維修。利用隨包裝所附的磁性工具,可以輕鬆拆卸 LED 模組,無需佈線即可快速更換。
專用安裝配件
產品含有所有必要組件,包括橫向掛牆架和安裝工具。電動支架需要額外選購,安裝可將顯示屏(連電動支架) 從 2 米調整到 2.5 米,配合不同場地需要。
兼容影音控制系統
All-in-One Smart 系列支持 Crestron Connected®* ,高效兼容專業影音控制功能,可以無縫整合及經網絡自動操控,將管理效率有效提高。
* 必須在顯示屏進行初始設定,方可兼容 Crestron Connected®。
Magic Remote 遙控器
LG Magic Remote 遙控器就像滑鼠一般方便易用,可以輕鬆選取並進入顯示屏選單,其光標更可作鐳射筆使用。此外,用戶在進行會議時,利用遙控器上新增的「靜止」按鈕,用戶在個人電腦上切換內容時可以暫停畫面,讓會議能夠無間斷進行,無須暴露切換過程。
* LG Magic Remote 遙控器要另行購買。
** 畫面凍結功能僅在 All-in-One Smart 連接外部輸入信號時方可使用。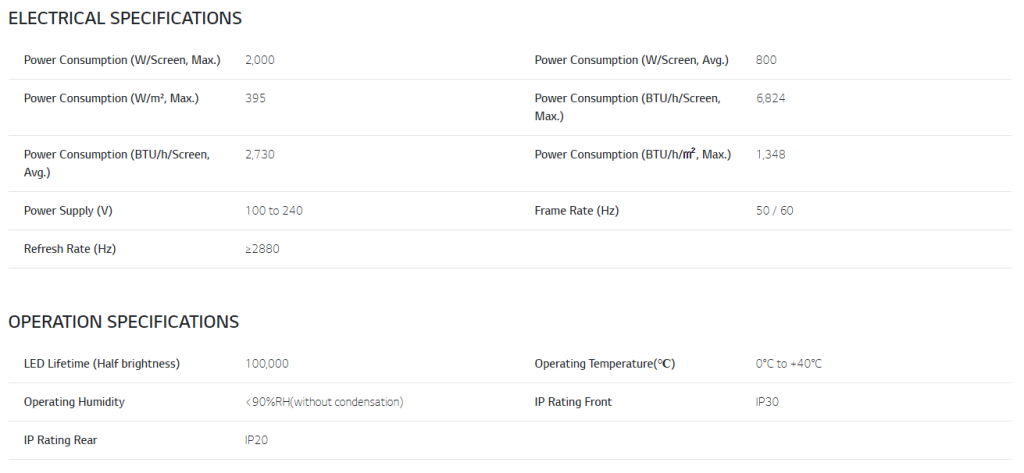 LG LAEC015 All-in-one Smart Series
The LG LAEC015 All-in-one Smart Series monitor is a high-performance and intelligent display that provides a comprehensive solution for office environments. This display features a 1.56mm pixel pitch and a 136-inch Full HD screen, delivering clear and detailed images and text. With a brightness of 500 nits, it delivers excellent display performance even in brightly lit environments.
It features an embedded system controller and built-in speakers and Quad Core SoC. It is not necessary to connect any external controllers or setup modules. Additionally, the display is equipped with the LG webOS Smart Platform and supports Crestron Connected®️, boosting business management efficiency. It can also be used with LG One:Quick Share or LG Magic Remote for convenient content control and sharing.
The display is easy to install and comes with a magnetic repair tool. The LED module can be simply detached and replaced without cabling. Extra dedicated accessories, such as wall mounts and motorized stands, allow more flexible use of the display.
All-in-One LED Screen
The All-in-One Smart series is a 136-inch all-in-one LED display package with a built-in controller and speakers. It is easy to install and can be turned on with a remote control, without the need to connect a controller or configure modules. It is as easy to use as a home television and eliminates the negative impression of LED displays being difficult to install and operate.
Outstanding Performance with webOS
Equipped with a Built-in Quad Core SoC (System on a Chip), the All-in-One Smart series can perform multiple tasks simultaneously while maintaining smooth playback. In addition, the LG WebOS Smart Platform provides users with more convenience through an intuitive GUI and provides SI and developers with simple application development tools, such as SDKs (Software Development Kits), SCAP, and application templates.
* The webOS Signage Developer site (https://webossignage.developer.lge.com) provides SDK tools and documentation for creating apps on LG Digital Signage. This is only open to partners.
LG One:Quick Share
LG One:Quick Share is a wireless screen sharing solution. Using the All-in-One Smart series, USB transmission unit, and their application, users can share their personal computer screens on the display screen without a remote control. They can also adjust the basic settings (volume, picture mode, auto bright, etc.) of the connected display screen through the application. The Office Meeting Mode can display the agenda and notes before the meeting starts.
* Users need to set up Soft AP enabled at Network Menu of the Signage.
** Users can enable Office Meeting Mode at EZ Setting Menu of the Signage.
*** LG One:Quick Share needs to be purchased separately.
Easy Installation
The All-in-One Smart series is very easy to install. Fix the two racks that come with it in place, connect each LED display module, and finally plug in the power cord. Installation is easy, saving time and manpower, and users can easily operate the LED screen.
* Fixing screws or installing wall mount / accessories is needed additionally.
Easy and Fast Maintenance
If the LED module or system board malfunctions, it can be repaired directly from the front of the display screen. Using the magnetic tool included in the package, the LED module can be easily removed and replaced without cabling.
Dedicated Installation Accessories
The product includes all necessary components, including the landscape wall mount and installation tools. The motorized stand needs to be purchased separately, and the display screen (including stand) can be adjusted from 2.0m to 2.5m, depending on the needs of different venues.
Compatible with AV Control Systems
The All-in-One Smart series supports Crestron Connected®, which efficiently and seamlessly integrates professional AV control functions and can be automatically controlled via the network, effectively improving management efficiency.
* Initial setting from display is required for Crestron Connected® compatibility.
Magic Remote
The LG Magic Remote is as convenient and easy to use as a mouse, allowing users to easily select and enter display screen menus, and the cursor can be used as a laser pointer. In addition, during meetings, users can use the "FREEZE" button on the remote control to pause the screen when switching content on their personal computer, allowing the meeting to proceed uninterrupted without exposing the switching process.
* LG Magic Remote needs to be purchased separately.
** The FREEZE function is only available when the All-in-One Smart is connected to an external input signal.
Product Details
Pixel Pitch: 1.56 mm
Screen Size: 136″ (Full HD)
Brightness: 500 nit
Embedded System Controller
Built-in Speaker
Dedicated Accessories : Wall Mount, Motorized Stand (Optional)