P2.5mm indoor LED screen make assembly, disassembly, and maintenance easier with its seamless stitching. P2.5mm indoor LED display also saved much work at the installation and dismantlement through ultra-thin cabinet design and lightweight. P2.5mm LED monitor can be made in various shapes such as rectangle, square, arc, circle and other customized shapes.  Customers could play Video and photo and manage system through cloud on P2.5mm LED screen. P2.5mm LED display is commonly used in advertising and marketing for campaign information, urgent information, and instant message in various places such as supermarkets, shopping plazas, conference rooms, bus stations, and restaurants.
Here is an experience sharing of cylindrical shaped P2.5mm LED monitor installation from Wise AV Solution Limited: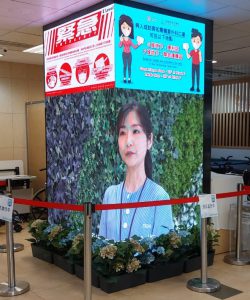 P2.5mm LED display could provide more information in a limited space.  With its seamless stitching,  P2.5mm LED monitor can in any shapes like cylindrical shaped wall which is displayed on the photo above, making it easy to install on any place. Besides, the amplifier system installation is also be done for the customer. Before the installation of p2.5mm LED screen, customers could only provide limited information by sticking poster on the wall. The customers need to renew the information by changing poster on the wall which costs a great amount of time, expenditure and manpower. But now, with our P2.5mm LED screen,  customers could provide information by changing the content displayed on the screen at anytime through the cloud depending on their need. It is a hassle-free product and also help in saving customer time.
Wise AV Solution has been established for more than ten years and has been dedicated to bringing our customers a comprehensive and quality service related to audio-visual equipment.
Do not hesitate to contact Wise AV Solution, the industry leader who attaches importance to quality and service.
Tel: (852) 3579 8586