Description
Kramer Galil 5-O 2音路壁掛式揚聲器
Galil 5-O 壁掛式揚聲器採用多路變壓器,可選擇8Ω(繞過變壓器)或70V/100V電源設置,非常適合用於陣列安裝。白色可供選擇。
類型 – 2音路壁掛揚聲器
低音揚聲器 – 5.25英寸聚丙烯錐
高音揚聲器 – 0.5英寸Mylar圓頂
阻抗 – 8Ω
功率處理能力 – 30W RMS,80W持續節目
變壓器端子 – 70V – 20W / 10W / 5W / 2.5W / 關閉(低阻抗),100V – 20W / 10W / 5W / 關閉(低阻抗)
包裝內容 – 2個揚聲器(1對)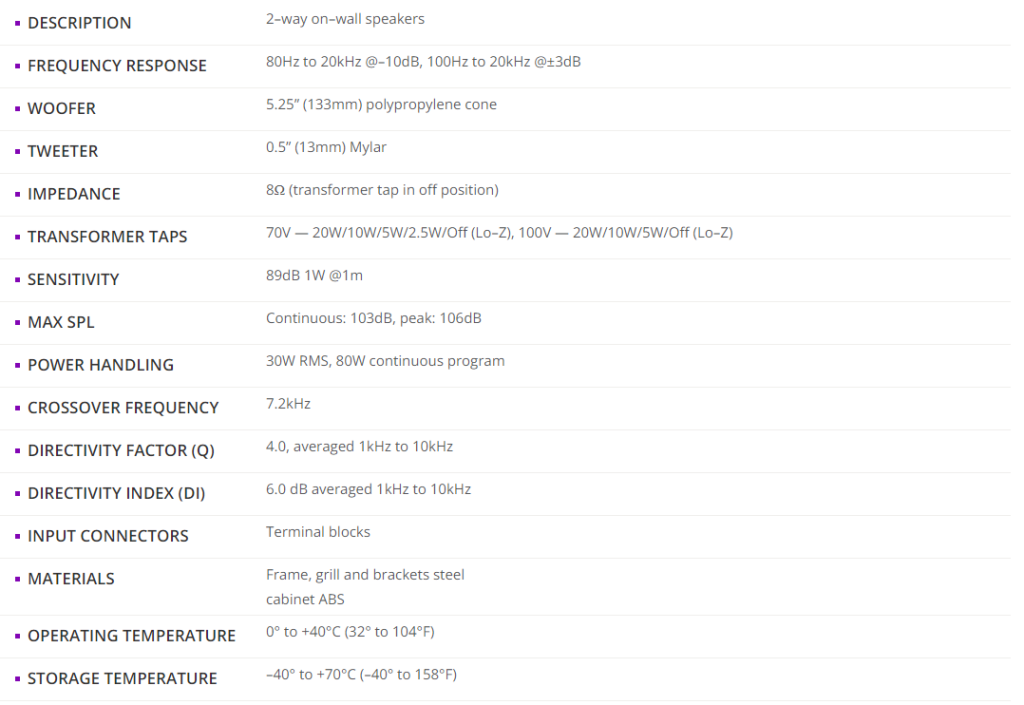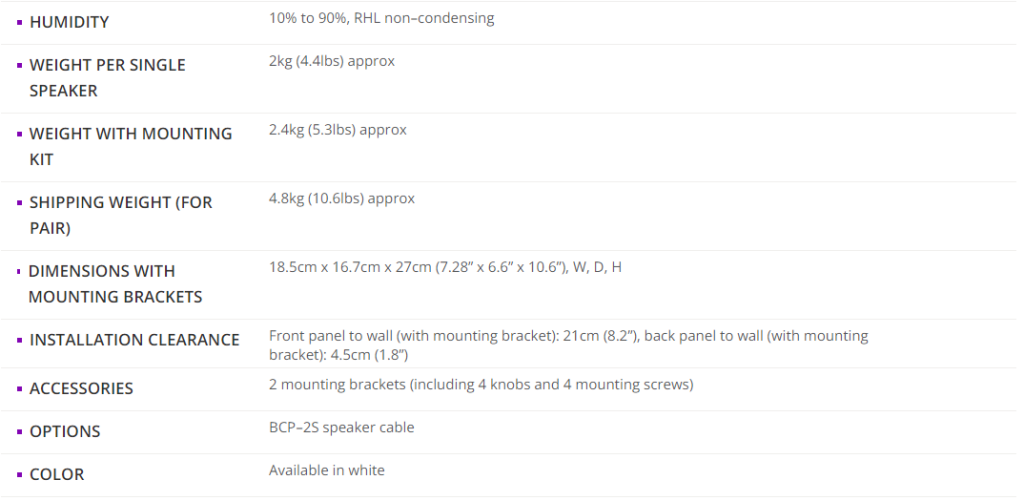 Kramer Galil 5-O 2-Way On-Wall Speakers
The Galil 5−O On−wall Speaker features a multi−tap power transformer for selecting 8Ω (bypassing the transformer) or 70V/100V power settings that are suitable for an array installation. Available in white.
 Type — 2–way on–wall speaker.
 Woofer — 5.25" polypropylene cone.
 Tweeter — 0.5" Mylar dome.
 Impedance — 8Ω.
 Power Handling — 30W RMS, 80W continuous program.
 Transformer Taps — 70V — 20W/10W/5W/2.5W/Off (Lo–Z), 100V — 20W/10W/5W/Off (Lo–Z).
 Package — 2 speakers (1 pair).
Applications
 Conference rooms, boardrooms, classrooms, hotels, restaurants