Description
Crown CDi 4|300 專業功率放大器
CDi DriveCore 系列掀起了功放的革命性創新,呈現了令人刮目的高性能、豐富功能以及成本優勢的完美組合。CDi DriveCore 採用哈曼旗艦固定安裝功放(Crown DriveCore Install 系列)技術,簡化了功能,幾乎適用於任何中小型固定安裝、電影院、零售店等應用場合。CDi DriveCore 系列設計旨在各種應用場景中運用自如,擁有2 或4 通道配置,以及網絡控制/監控、高電平DSP、前面板界面等,且無需外接變壓器也能驅動高達100Vrms 定壓模式的揚聲器。此外,使用BLU link(BL 模式)還可改變通道數/輸出功率,實現了通過哈曼數字音頻總線收發通道的功能。
DriveCore 技術
Crown 的 DriveCore 專有技術的高效設計減少了每個功放的組件數量(高達數百個),降低了組件值的差異性,提高了可靠性,從而呈現難以置信的音頻保真度。
網絡控制與監控
安裝哈曼的 HiQnet Audio Architect 軟件,即可通過標準的 TCP/IQ 網絡對 CDi DriveCore 进行控制、配置與監控。
DSP
每個功放的板載數字信號處理器均支持自定義配置
輸入路由器
輸入延遲 – 高達 1000ms
輸入參量均衡 – 8 個頻段
分頻器
輸出參量均衡 – 8 個頻段
輸出延遲 – 高達 100ms
LevelMAX™ 限制器
BLU link(僅限 BL 模式)
通過哈曼的 256 通道、容錯音頻總線、BLU link 收發通道
直接驅動 70/100Vrms 定壓輸出
每個通道均支持 70V 定壓模式或 100V 定壓模式的高阻抗應用。
前面板界面
使用直觀的前面板界面即可對功放進行全面配置。
GPIO/AUX 端口
通過 GPIO/AUX 組合端口可調用預設、使通道靜音、監控故障、打開/關閉功放等。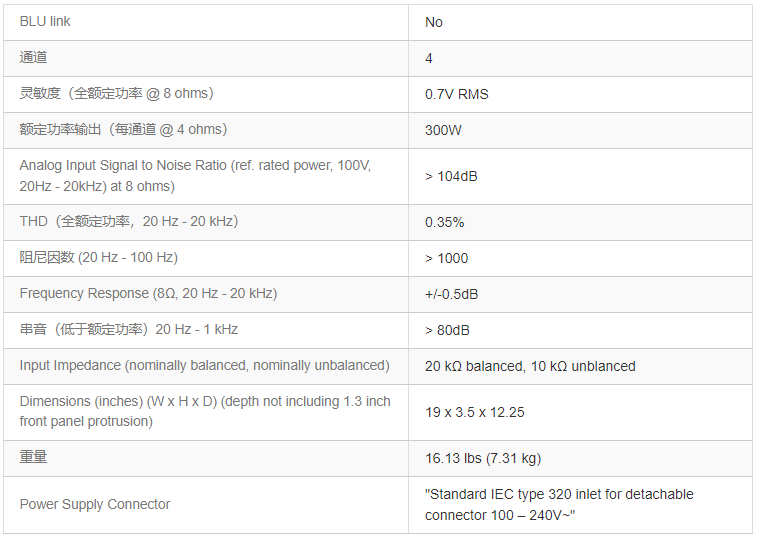 Crown CDi 4|300 Professional Power Amplifiers
The CDi DriveCore Series is an evolution in amplification, providing an impressive mix of high-performance; rich feature set, and competitive cost. Using technology derived from our flagship Installed Sound amplifier (Crown DriveCore Install series), the CDi DriveCore 4|300 offers streamlined functionality to work in almost any small/medium sized installation such as restaurants, retail stores, and more. Designed for ease-of-use in a variety of applications, the 4|300 is a 4-channel amp that includes network control/monitoring, high-level DSP, front-panel interface, and support for driving up to 100Vrms speaker loads without requiring a transformer. The entire CDi DriveCore line comes pre-loaded with JBL speaker tunings to help make installations quicker and easier.
DriveCore Technology
Crown's proprietary DriveCore technology eliminates hundreds of components within each amplifier, reducing the variability of component values, increasing reliability, resulting in incredible audio fidelity from an efficient design.
Network Control and Monitoring
Through Harman's HiQnet Audio Architect software, the CDi DriveCore can be controlled, configured, and monitored through standard TCP/IQ network.
DSP
On-board Digital Signal Processor in each amplifier allows for custom configuration
Input Router
Input Delay – Up to 1000ms
Input Parametric EQ – 8 band
Crossover
Output Parametric EQ – 8 band
Output Delay – Up to 100ms
LevelMAX™ Limiter
BLU link (BL models only)
Both receive and send channels over HARMAN's 256 channel, fault-tolerant audio BUS, BLU link
Direct Drive 70/100Vrms Output
Each output channel is capable of provide either 70V or 100V for high impedance applications.
Front-Panel Interface
Completely configure the amplifier using an intuitive front-panel interface.
GPIO/AUX Port
Recall presets, mute channels, monitor faults, power on/off the amplifier, and more through a combined GPIO/AUX Port.