Description
Samsung QHH 系列 QLED 智慧顯示屏
Samsung QHH 系列 QLED 智慧顯示屏 採用最先進的量子點技術,提供非凡的畫面品質和色彩表現。這款顯示器平衡明暗亮度,展現比傳統產品更深沉、更真實的畫面,並且透過升級的半導體畫面優化技術,呈現更深的黑色、更鮮明的白色和更精確的色彩,提供吸睛的畫面效果。配合 HDR 畫面優化技術,QHH 系列顯示屏能夠以原本的畫面品質呈現各種靜態和動態內容,並且支援 HDR10 畫面呈現標準和 HDR+ 技術,讓室內企業可保證所有展示的內容符合 Ultra HDR 標準,以最清晰、最明亮的方式呈現給客戶。
此外,QHH 系列 QLED 智慧顯示屏 搭載了第五代智慧標誌平台(SSSP 5.0)和 TIZEN 3.0 操作系統,提供高端圖像技術和四核心 CPU 實現真正的 UHD 播放,並且具有 HTML5 兼容性和 Knox 安全保障,讓商業用戶能夠輕鬆拓展業務運營能力。同時,QHH 系列顯示屏的無邊框設計擴大了整體可用的觀看空間,讓觀眾的目光集中在內容上,而不是顯示器本身,並且無縫牆掛設計進一步讓使用者可以整潔地安裝 QHH 系列顯示屏,消除了常見的視覺干擾來源,並節省寶貴的零售空間。
QHH 系列顯示屏的長時間持續吸引觀眾的特色,以及支援最新技術和安全保障的功能,使其成為一款理想的商業顯示器。其卓越的畫面品質和優秀的性能表現,搭配無邊框設計和無縫牆掛設計等實用功能,讓商業用戶可以輕鬆地展示內容,吸引觀眾的注意力,並增進業務運營能力。
Samsung QHH系列 QLED 智慧顯示屏
Samsung 推出搭載新一代量子點技術的 QHH 系列 QLED 智慧顯示屏,將傳統的內容體驗提升到全新高度,為觀眾帶來更加真實的畫面質量,營造出意想不到的觀賞體驗。QHH 系列顯示屏能夠展現超過十億種顏色,提供 100% 的色彩體積,而且能夠呈現深邃的黑色、純淨的白色和鮮艷的色調,讓任何圖片都更加生動。此外,QHH 系列顯示屏支援橫向和豎向配置,企業可以根據特定的操作需求自由定制顯示方式,達到最大的觀眾覆蓋率,而且無需額外的麻煩或費用。透過這款劃時代的顯示技術,Samsung 的 QHH 系列顯示屏提供了卓越的亮度、細節和真實感,幫助企業脫穎而出,推動互動式、持續的業務增長。
Samsung QLED 智慧顯示屏:解鎖新的發展機會
隨著商業環境日益擁擠,企業不斷尋求吸引觀眾和提高效率的新方法,許多企業開始採用先進的數字化顯示器作為突破重圍的方式。通過整合量子點視覺優化技術,Samsung 的 QHH 系列 QLED 智慧顯示屏 為這些企業提供了更大的競爭優勢。沉浸式的高質量畫面創造了更加難忘、有吸引力、引人注目的顧客體驗。除了外部傳播效益,QHH 系列顯示屏還能通過準確、清晰的標誌和色彩呈現,加強展示企業的品牌形象。通過這個多樣化的功能組合,Samsung QHH 系列 QLED 智慧顯示屏是創造額外收入和增強客戶忠誠度的完美選擇。
展示超過 10 億種顏色,精準無比
通過與多種色譜的兼容性,QHH 系列顯示屏實現了 100% 的色彩體積*,可以呈現超過 10 億種不同的顏色,並保持最佳的色彩純度。這種增強的呈現方式可以在不同亮度下展現最微妙的視覺細節,並令呈現的內容在任何室內環境中都更加逼真。依靠像真度高的顯示效果,零售商和其他室內企業可以更有效地推動客戶的購買意欲,提高滿意度。
*QLED 標誌已獲得世界級測試和認證協會德國電氣技術協會(Verband Deutscher Elektrotechniker,簡稱 VDE)的驗證,證明其能夠實現 100% 色彩體積。
增強亮度與呈現效果,突顯沉浸體驗
量子點技術的應用使 Samsung 的新款 QLED 顯示屏能夠平衡明暗亮度(橫向 600 尼特,豎向 500 尼特)並保持色階,呈現比傳統產品更深沉、更真實的畫面。透過升級的半導體畫面優化技術,QHH 系列顯示屏呈現更深的黑色、更鮮明的白色和更精確的色彩,提供吸睛的畫面效果。因此,任何環境下的企業都能提供真正沉浸式、引人入勝的觀影體驗,且無需擔心外部干擾。
以 HDR 品質呈現任何面向顧客的內容
QHH 系列顯示屏採用 HDR 畫面優化技術,能夠以原本的畫面品質呈現各種靜態和動態內容,並不會影響視覺品質。這包括支援 HDR10 畫面呈現標準和 HDR+ 技術。透過 HDR10 相容性,室內企業可保證所有展示的內容符合 Ultra HDR 標準,以最清晰、最明亮的方式呈現給客戶。額外的 HDR+ 功能也讓企業能夠快速、有效地將標準畫質(SDR)的內容轉換為 HDR 品質,超越行業限制。這種靈活性為企業提供了新機會去創建由鮮明畫面對比、生動色彩和無間斷串流所打造的高品質 HDR 內容。
透過強大的 TIZEN 3.0 操作系統拓展業務運營能力
Samsung QHH 系列顯示屏是其產品系列中首款搭載第五代智慧標誌平台(SSSP 5.0)的產品,並由多功能的 TIZEN 3.0 操作系統提供支援。在 TIZEN 3.0 中,室內商業用戶可以透過高端圖像技術,提升內容的視覺效果,並透過專用四核心 CPU 實現真正的 UHD 播放。TIZEN 3.0 的嚴格三層安全結構還限制文件數據訪問範圍,完美適應政府、金融和其他信息保護性業務的需求。
長時間持續吸引觀眾,從不間斷
耐用可靠的 Samsung QHH 系列 QLED 顯示器,提供不間斷長期表現,滿足各種室內場所的運營需求。隨著內容不斷更新,這些強化的顯示器能夠有效防止燒屏現象,避免觀眾混淆和分心。此外,每個 QHH 系列顯示屏都經過精心設計,即使在長時間使用期間也能保持色彩的穩定性和準確性,並且不需要額外的維護。這種無需維護的穩定性讓商業領袖可以專注於其他關鍵增長領域,而不必擔心內容展示質量。
透過無邊框、易於安裝的設計,提升沉浸感
QHH 系列顯示屏精美的結構為任何室內環境增添風格和氛圍。顯示器的無邊框設計擴大了整體可用的觀看空間,同時確保觀眾的目光集中在內容上,而不是顯示器本身。無縫牆掛設計*進一步讓使用者可以整潔地安裝 QHH 系列顯示屏,消除了常見的視覺干擾來源,並節省寶貴的零售空間。
*從電視的後端測量,間隙大小可能因安裝和牆體類型而有所不同。
透過超高清的畫質,為商業內容注入活力
QHH 系列顯示屏採用最先進的 UHD 畫質技術,讓使用者能夠創建和傳遞具有影響力的訊息。每個 QHH 系列顯示屏都展示出比標準選項更高四倍的超逼真細節和清晰度,並且擁有更寬的屏幕空間,可用於顯示更多的文字和圖像。搭配肖像模式和延長的耐用性等性能特點,QHH 系列顯示屏呈現的卓越展示效果,使其成為任何商業場景的理想選擇。
產品詳情
量子點技術
100% 色彩體積
HDR 畫面優化技術
第五代智慧標誌平台(SSSP 5.0)
TIZEN 3.0 操作系統
四核心 CPU
超高清內容播放
HTML5 兼容性
Knox 安全保障
無邊框設計
零縫隙牆掛設計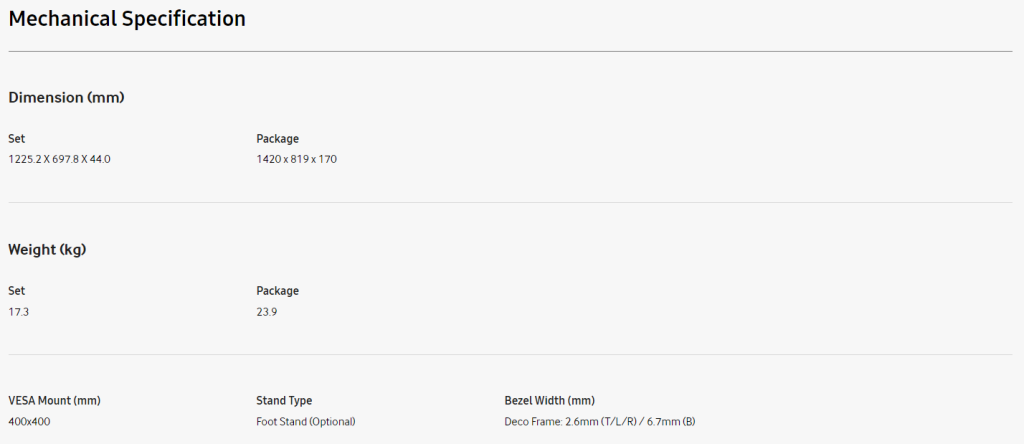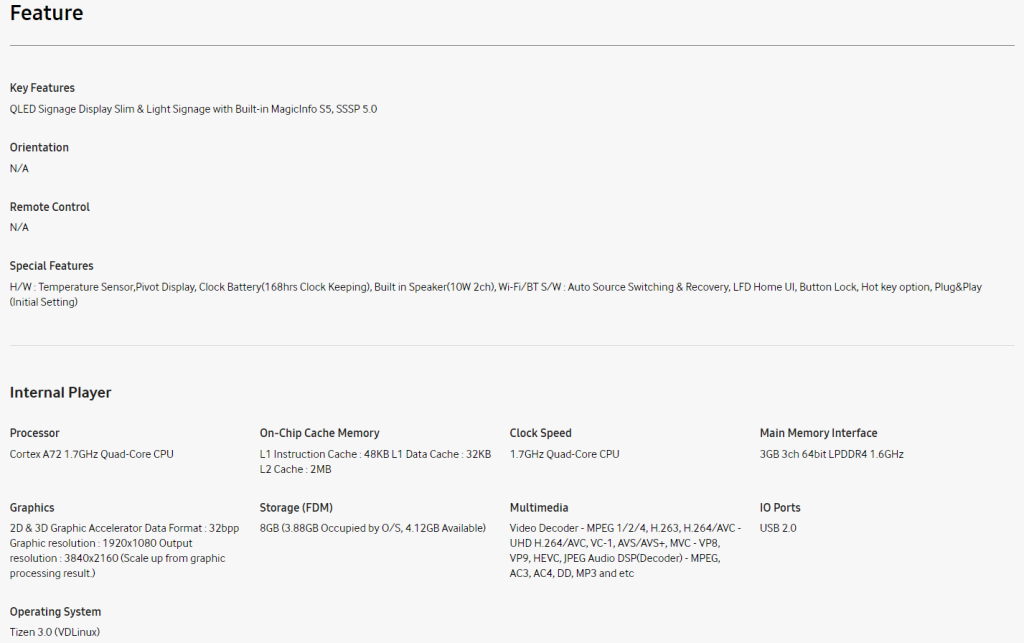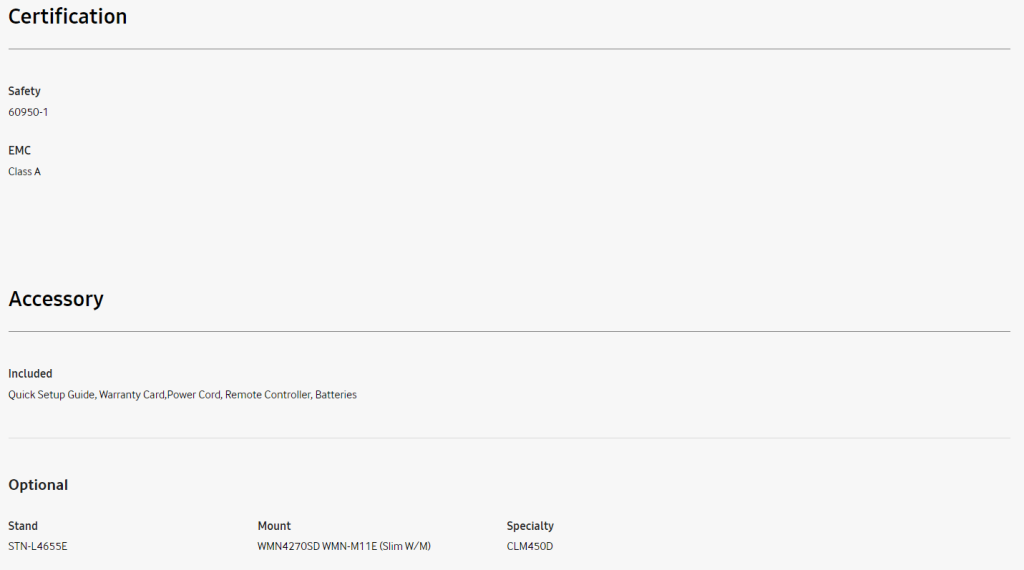 Samsung QH55H QLED Smart Signage
The Samsung QHH QLED Smart Signage utilizes advanced quantum-dot technology to provide exceptional picture quality and color performance. This display balances brightness and darkness to present deeper and more realistic images than traditional products. With upgraded semiconductor-based picture refinement technology, it showcases deeper blacks, brighter whites, and more precise colors, resulting in eye-catching visuals. The QHH Smart Signage also supports HDR picture refinement technology, allowing it to present various static and dynamic content in its original quality. Additionally, it supports HDR10 screen presentation standards and HDR+ technology, ensuring that all displayed content meets the Ultra HDR standard for indoor businesses. This results in the clearest and brightest presentation possible for customers.
Furthermore, the QHH QLED smart signage is equipped with the 5th generation SMART Signage Platform (SSSP 5.0) and TIZEN 3.0 operating system, providing advanced image technology and a quad core CPU for true UHD playback. It is also HTML5 compatible and has Smart Signage Secured by Knox, allowing commercial users to easily expand their business capabilities. The QHH smart signage's borderless design enlarges the overall viewing space, directing the audience's attention towards the content rather than the display itself. Additionally, the no-gap wall mount design enables users to install the QHH smart signage neatly, eliminating common sources of visual interference and saving valuable retail space.
The QHH smart signage is an ideal commercial display with its long-lasting ability to attract viewers and support for the latest technology and security features. Its outstanding picture quality and excellent performance, coupled with practical features such as frameless design and no gap wall mounting, make it easy for commercial users to showcase content, attract viewers' attention, and improve business operations.
Samsung QHH series QLED Smart Signage
Samsung has introduced the QHH series QLED Smart Signage, featuring the latest generation of Quantum Dot technology, which takes the traditional content experience to new heights, providing viewers with more realistic picture quality and creating unexpected viewing experiences. The QHH series signage can display over a billion colors, providing 100% color volume, and can display deep blacks, pure whites, and vivid colors, making any image more vivid. Additionally, the QHH series signage supports both landscape and portrait configurations, allowing businesses to customize the display to meet specific operational needs, achieving maximum audience coverage without additional hassle or cost. Through this groundbreaking display technology, Samsung's QHH series signage provides exceptional brightness, detail, and realism, helping businesses stand out and drive interactive, sustained business growth.
Samsung QLED smart display screen: Unlocking new development
As the business environment becomes increasingly crowded, enterprises are constantly seeking new ways to attract audiences and improve efficiency, with many turning to advanced digital displays as a way to break through. By integrating quantum dot visual refinement technology, Samsung's QHH series QLED signage provides these enterprises with a greater competitive advantage. The immersive, high-quality visuals create a more memorable, attractive, and eye-catching customer experience. In addition to external communication benefits, the QHH series signage also enhances the display of corporate brand image through accurate, clear logos and color presentation. With this diverse feature set, the Samsung QHH series QLED smart signage is the perfect choice for creating additional revenue and enhancing customer loyalty. opportunities
Displaying over a billion colors with unparalleled precision
Through compatibility with multiple color spectrums, the QHH series signage achieves 100% color volume*, displaying over a billion different colors while maintaining the best color purity. This enhanced display method can showcase the most subtle visual details at different brightness levels and make the displayed content more realistic in any indoor environment. With true-to-life product presentation, retailers and other indoor enterprises can more effectively drive customer purchase intent and increase satisfaction.
* QLED Signage has received verification from world-class testing and certification association, Verband Deutscher Elektrotechniker (VDE), for its ability to produce 100 percent color volume.
Enhanced brightness and display effect, highlighting the immersive experience
The application of quantum dot technology allows Samsung's new QLED signage to balance brightness and maintain color gradation (600nit in landscape and 500nit in portrait), presenting a more profound and realistic picture than traditional products. Through upgraded semiconductor-based picture refinement technology, the QHH Series signage displays deeper blacks, brighter whites, and more precise colors, providing eye-catching visual effects. Therefore, any enterprise in any environment can provide a truly immersive and captivating viewing experience without worrying about external interference.
Presenting any customer-facing content in HDR quality
The QHH Series displays adopt HDR picture refinement technology, which can present various static and motion content in their original quality without compromising visual quality. This includes support for HDR10 picture presentation standards and HDR+ technology. Through HDR10 compatibility, indoor enterprises can ensure that all displayed content meets the ultra-HDR standard, presented to customers in the clearest, brightest way possible. The additional HDR+ feature also enables businesses to quickly and effectively convert standard definition (SDR) content into HDR quality, surpassing industry limitations. This flexibility provides businesses with new opportunities to create high-quality HDR content with sharp picture contrast, vivid colors, and uninterrupted streaming.
Expanding business operational capabilities through the powerful TIZEN 3.0 OS
The Samsung QHH series QLED displays are the first products in their line to feature the fifth generation SMART Signage Platform (SSSP 5.0), supported by the versatile TIZEN 3.0 operating system. With TIZEN 3.0, indoor commercial users can enhance the visual effects of their content through advanced image technology and achieve true UHD playback with a dedicated quad core CPU. TIZEN 3.0's strict three-layer security structure also limits file data access, perfect for meeting the needs of government, finance, and other information protection businesses.
Interruption-free, long-term audience engagement
The durable and reliable Samsung QHH series QLED displays provide interruption-free long-term performance, meeting the operational needs of various indoor environments. With continuous content updates, these enhanced displays effectively prevent screen burn-in, avoiding confusion and distraction for the audience. Additionally, each QLED display is carefully designed to maintain color stability and accuracy even during prolonged use without requiring additional maintenance. This maintenance-free consistency allows business leaders to focus on other critical growth areas without worrying about the quality of content display.
Enhance the immersive experience through a frameless and easy-to-install design
The exquisite structure of the QHH series displays adds style and ambiance to any indoor environment. The frameless design of the display enlarges the overall available viewing space while ensuring that the audience's attention is focused on the content rather than the display itself. A no-gap wall mount* further allows users to install the QHH series displays in a tidy and uncluttered manner, removing common sources of visual interference and saving valuable retail space.
* Measured from rear end of the TV, the gap may differ based on the installation and wall type.
Inject vitality into commercial content with UHD picture quality
The QHH series displays utilize the most advanced UHD picture quality technology, allowing users to create and deliver impactful messages. Each QHH series display showcases ultra-realistic detail and clarity that is four times higher than standard options, with a wider screen space for displaying more text and images. With performance features like portrait mode and extended durability, the QHH series displays deliver exceptional display quality that makes them the ideal choice for any commercial setting.
Product Details
Quantum-dot Powered
100% Color Volume
HDR Picture Refinement Technology
5th Generation SMART Signage Platform (SSSP 5.0)
TIZEN 3.0 Operating System
Quad Core CPU
UHD Content Playback
HTML5 Compatiblity
Smart Signage Secured by Knox
Frameless Design
No Gap Wall Mount