Description
Crestron AirMedia® Connect 轉接器 AM-TX3-100-I
AirMedia® Connect 轉接器 (AM-TX3-100-I) 可與具備 Wi-Fi® 網絡功能的 AirMedia 系列 3 接收器配對,實現無線演示和視訊會議功能1。將 AM-TX3-100-I 與 AirMedia 系列 3 接收器一同部署於會議室、小型會議室、休息室、大廳或幾乎任何空間,以建立高效的會議環境。
一個系統解決方案
AM-TX3-100-I 與具備 Wi-Fi 網絡功能的 AirMedia 系列 3 接收器配合使用,提供一個全面的系統解決方案。內置 Wi-Fi 網絡連接功能,可在轉接器和接收器之間建立點對點網絡,實現無縫連接,不會中斷。最多可將八個轉接器與一個接收器配對。AM-TX3-100-CRADLE(需另行購買)可用於存放最多四個 AM-TX3-100-I Connect 轉接器。
簡單連接
使用內置的 USB-C® 電纜,將 AM-TX3-100-I 連接至個人裝置,實現無縫無線演示,並在室內顯示器上顯示。由於 USB-C 提供原生視訊通信,因此個人裝置無需安裝任何軟件。
快速、高分辨率演示
將 AM-TX3-100-I 連接至個人裝置後,可在幾秒鐘內共享高達 4K30 分辨率的內容。可使用 LED 背光電容式觸控按鈕,在任何時候開始、停止或暫停演示。
無縫無線視訊會議
當 AM-TX3-100 通過 USB-C 連接到個人裝置時,該裝置可以訪問已與配對的 Wireless Conferencing-capable AirMedia 接收器 (AM-3100-WF-I 或 AM-3200-WF-I) 連接的外部設備2。這些外部設備可以與個人裝置一同使用 Microsoft Teams® 或 Zoom™ 軟件。
企業級安全性
AirMedia 平台是一個企業級解決方案,可在數百個空間中部署,並可使用網頁瀏覽器、Crestron Fusion® 軟件或 XiO Cloud® 服務輕鬆設置。它採用標準網絡安全協議,包括 802.1x 網絡訪問控制、Active Directory® 認證和 AES 內容加密,以保護隱私並確保符合您的組織 IT 政策要求。
主要特點
使用內置的 USB-C® 連接器連接至個人裝置。
連接至個人裝置後,可在幾秒鐘內共享高達 4K30 分辨率的內容。
即將推出:可訪問已與配對的 AirMedia 系列 3 接收器 AM-3100-WF-I 或 AM-3200-WF-I 連接的無線視訊會議外部設備。
可與具備 Wi-Fi® 網絡功能的 AirMedia 系列 3 接收器進行無線配對。
可將最多八個 AirMedia 轉接器與一個具備 Wi-Fi® 網絡功能的 AirMedia 系列 3 接收器進行配對。
不需要安裝任何軟件或驅動程式。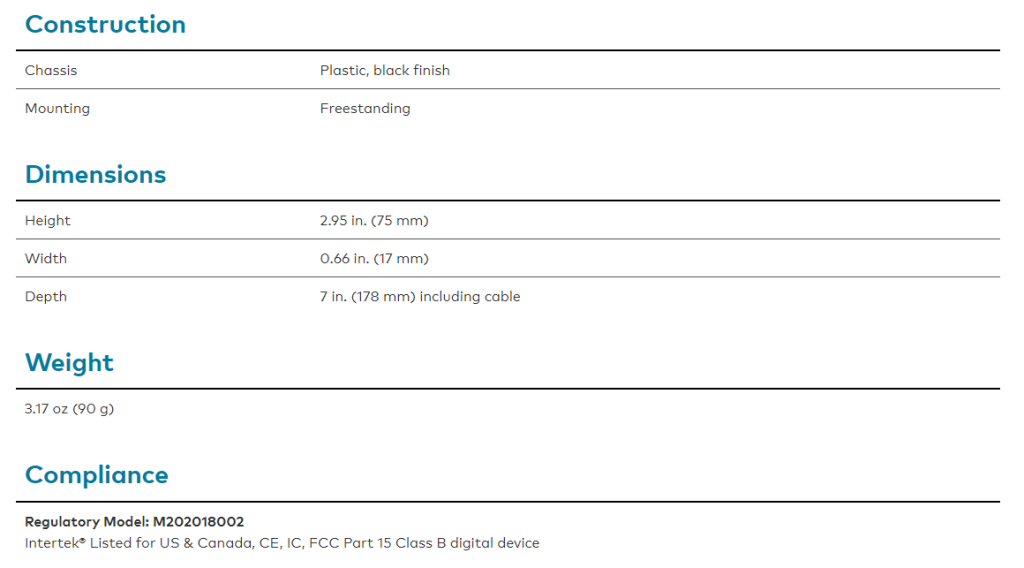 Crestron AirMedia® Connect Adaptor AM-TX3-100-I
By pairing the AirMedia® Connect Adaptor (AM-TX3-100-I) with a Wi-Fi® network capable AirMedia Series 3 Receiver, users can take advantage of wireless presentation and conferencing capabilities. To create a productive meeting environment, the AM-TX3-100-I can be deployed together with an AirMedia Series 3 Receiver in various spaces such as conference rooms, huddle rooms, lounges, lobbies, or nearly any other location.
A System Solution
The AM-TX3-100-I functions together with an AirMedia Series 3 Receiver that has Wi-Fi network capabilities to provide a comprehensive system solution. The adaptor and receiver are connected by a built-in Wi-Fi network, enabling uninterrupted and seamless connectivity. It is possible to pair up to eight adaptors with a single receiver with ease. The AM-TX3-100-CRADLE (sold separately) can accommodate up to four AM-TX3-100-I Connect Adaptors for storage purposes.
Simple Connectivity
Utilizing the integrated USB-C® cable, users can connect the AM-TX3-100-I to their personal device for convenient wireless presentation on a display within the room. Since USB-C provides native video communication, there is no need for software installation on the personal device.
Rapid, High‑Resolution Presentation
Once the AM-TX3-100-I is linked to a personal device, you can instantly share content with a resolution of up to 4K30. Control the presentation effortlessly with the LED backlit buttons and capacitive touch interface, allowing you to initiate, halt, or pause the presentation whenever needed.
Seamless Wireless Conferencing
Once the AM-TX3-100 is connected to a personal device via USB-C, the device gains access to peripherals2 that are connected to a paired Wireless Conferencing-capable AirMedia Receiver (AM‑3100‑WF-I or AM‑3200‑WF-I). These peripherals can then be utilized on the personal device with Microsoft Teams® or Zoom™ software.
Enterprise-Grade Security
The AirMedia platform is a high-quality solution designed for enterprise use, which can be implemented across numerous spaces with ease using a web browser, Crestron Fusion® software, or the XiO Cloud® service. The platform implements standard network security protocols such as 802.1x network access control, Active Directory® authentication, and AES content encryption to safeguard privacy and ensure compliance with the IT policies of your organization.
Key Features
Connects to a personal device using an integrated USB‑C® connector
Shares content up to 4K30 resolution within seconds of connecting to a personal device
Coming Soon: Provides access to Wireless Conferencing peripherals connected to a paired AM‑3100‑WF-I or AM‑3200‑WF-I AirMedia Series 3 Receiver
Wirelessly pairs with a Wi‑Fi® network capable AirMedia Series 3 Receiver
Pair up to eight AirMedia Adaptors with a single Wi‑Fi® network capable AirMedia Series 3 Receiver
Includes backlit capacitive touch buttons for convenient content sharing control
No software or driver installation required