SHURE Stem Ecosystem
EFFORTLESS
Discover the ecosystem that gives you the freedom to create, manage, and scale your collaboration space audio for an effortless experience in any room. The SHURE Stem Ecosystem solution is flexible and scalable to fit any meeting venue. Combining different types of audio equipment and customize a unique audio system to meet the needs of different conference rooms.
From Design To Implementation
To Create Your Ideal Setup, Mix And Match These Devices To Best Fit Your Room And Your Needs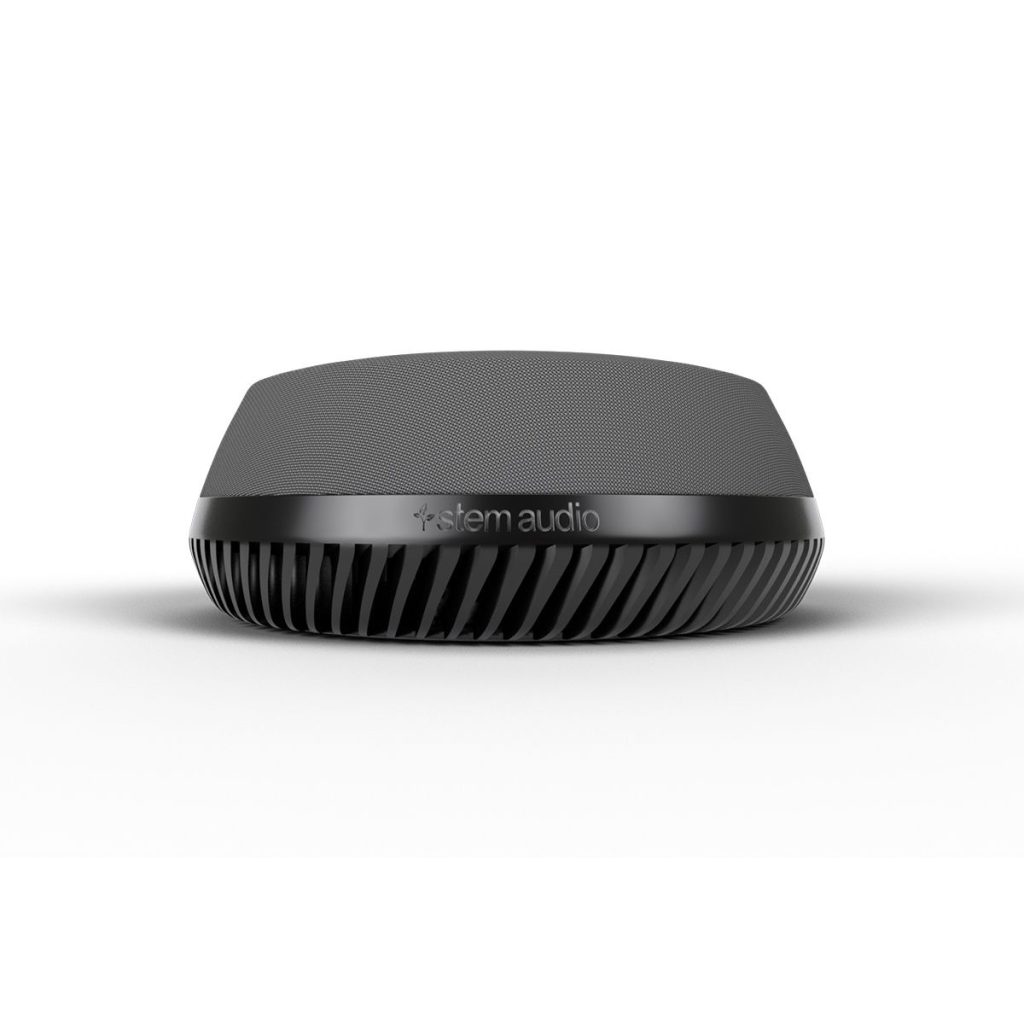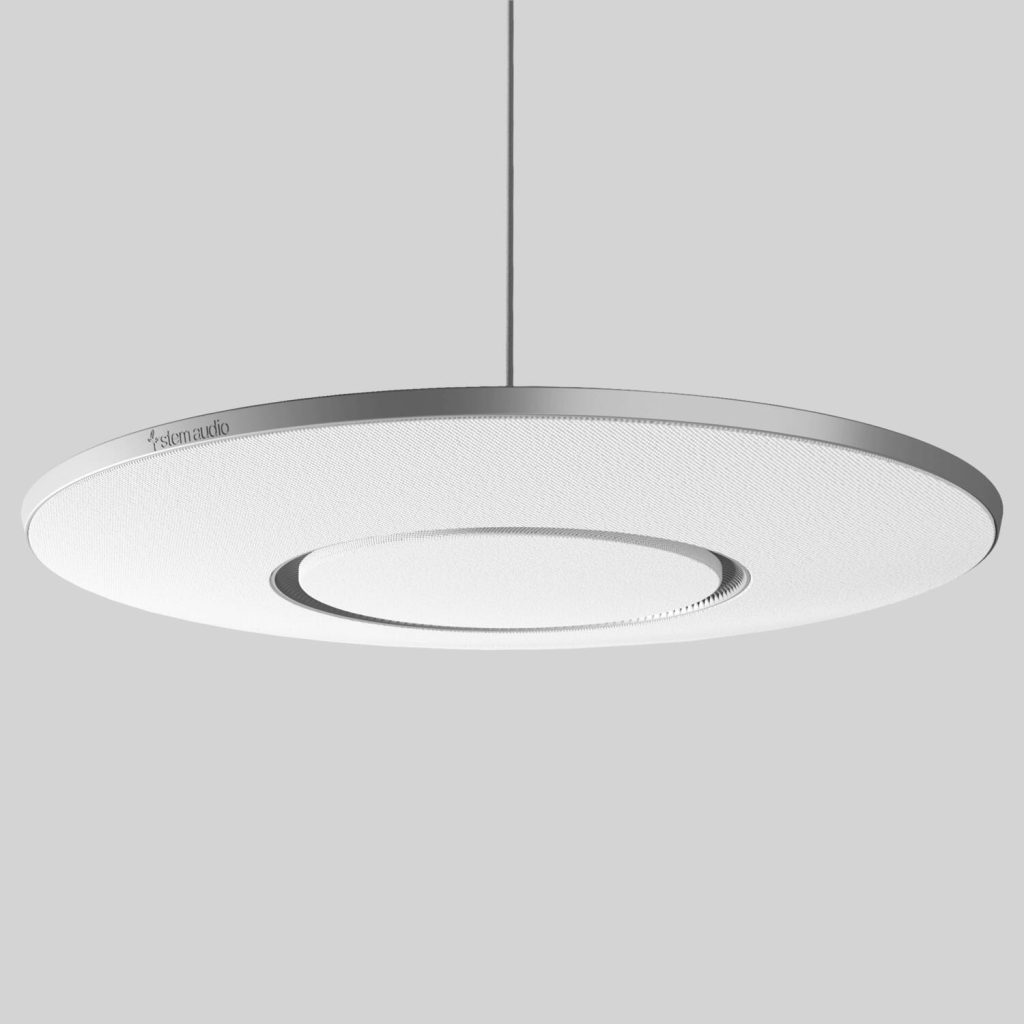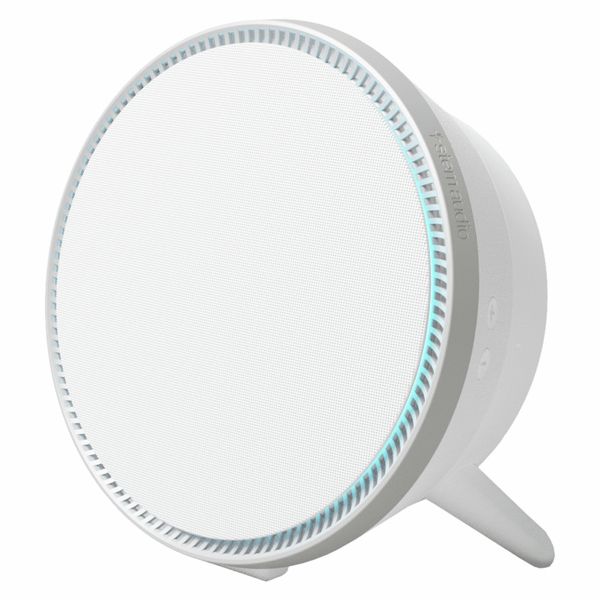 Tying Your Room Together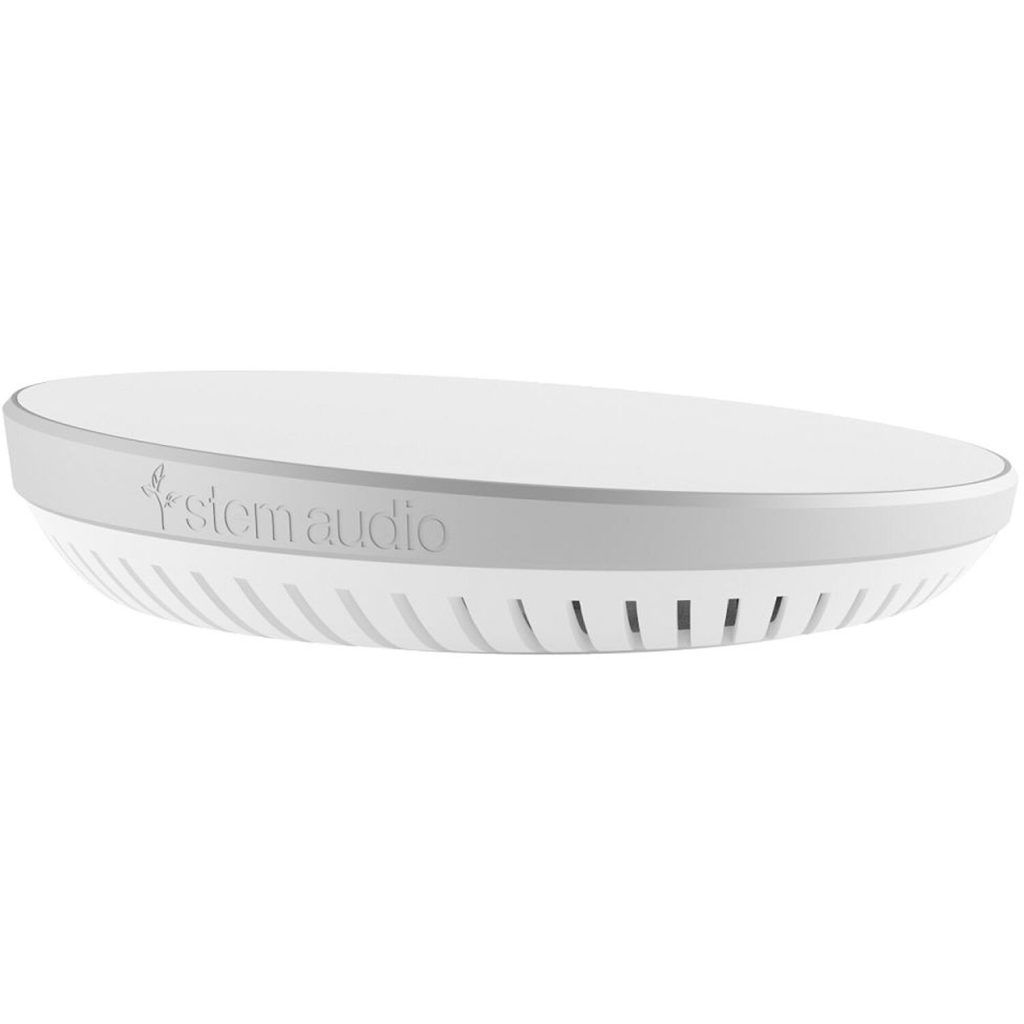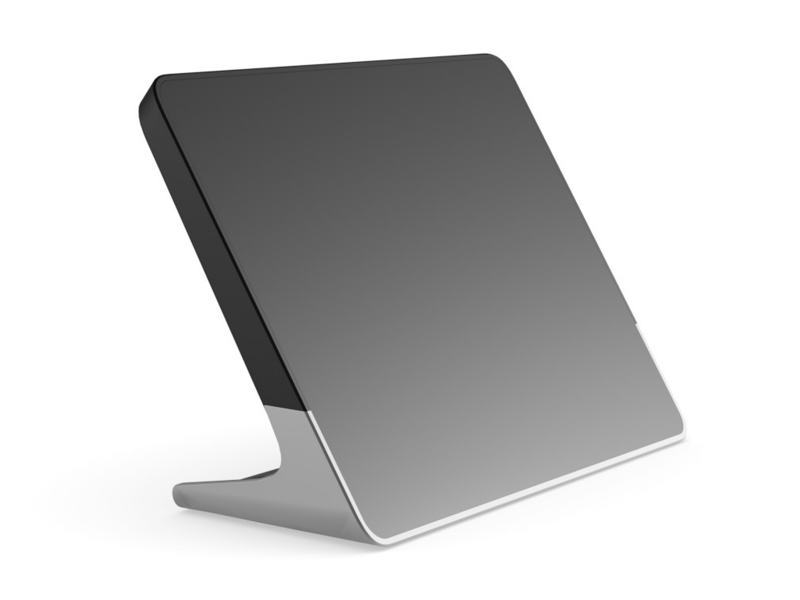 Endless Combinations, No Wrong Answers
With Stem, you have the freedom to mix and match Ceiling, Table, Wall and Speaker to meet your needs for every room.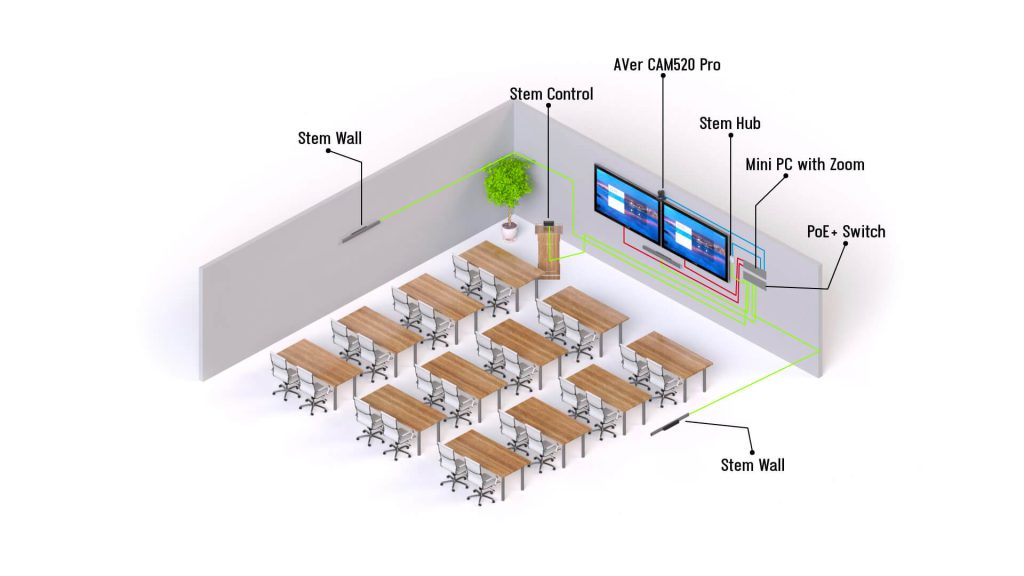 Save Big With Stem
Stem not only provides you with the freedom to customize your rooms but our no-programming approach saves you time and money. Outfit all your conference rooms with great audio while at the same time staying within your budget.
Plays Well With Others
The Stem Ecosystem is compatible with leading video conferencing platforms and collaboration technologies.
Here's What You'll Need To Get Started

VLAN Connection
To get Stem devices on your network, you'll need a wired connection within the same VLAN.

PoE+Enabled Network
For power and data, make sure you have a PoE+ network connection.

Bandwidth
To support conferencing, 2Mbps of bandwidth is required for each Stem device.
Stem Room design
Know What You Need Before You Buy
There is nothing worse than ordering an audio device and finding out only after installed that it doesn't cover your space! Stem RoomDesign is a tool that helps you determine exactly what devices you need in your meeting room before you ever spend a single cent.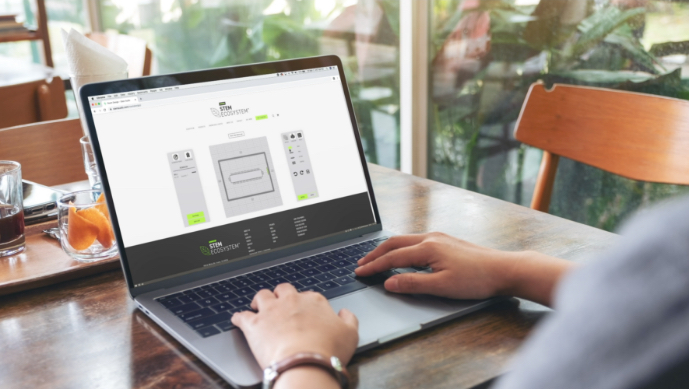 Customization For Anyone And A Room
Start by adding in the dimensions or walls and add in some furniture to virtually recreate your room no matter the shape, size, or configuration.
Pick, Place, and Check
Your room, your design, your audio. Pick any Stem devices and place them in the desired location within your design.
Once you've added your devices you can check the estimated coverage range to see the estimated audio pickup for your room.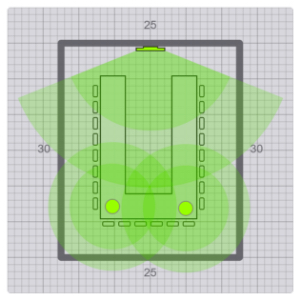 Coverage In Color
Estimated coverage shows you two possible variations of pick up ranges. The darker green represents optimal coverage, and the lighter green area highlights variable coverage which should help give you an idea of the potential coverage ranges.
Make Your Design Come To Life
Once your masterpiece is complete you can save your design or order your selected devices to make your room a reality.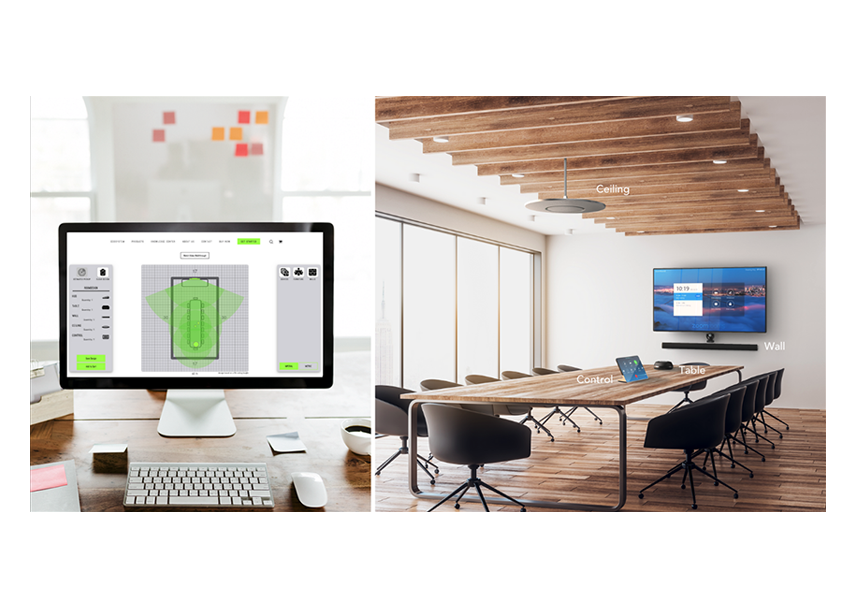 Stem RoomAdapt
Tailoring audio just for you
How RoomAdapt Works
RoomAdapt allows each device to listen to the specific acoustic signature of your room and then adjusts the device settings to give you a tailored audio solution just for you.
No Two Rooms Are The Same
Every room is different and has its own unique acoustic signature. Learn about how acoustics affect conference room audio and how the ecosystem helps you adjust to acoustics.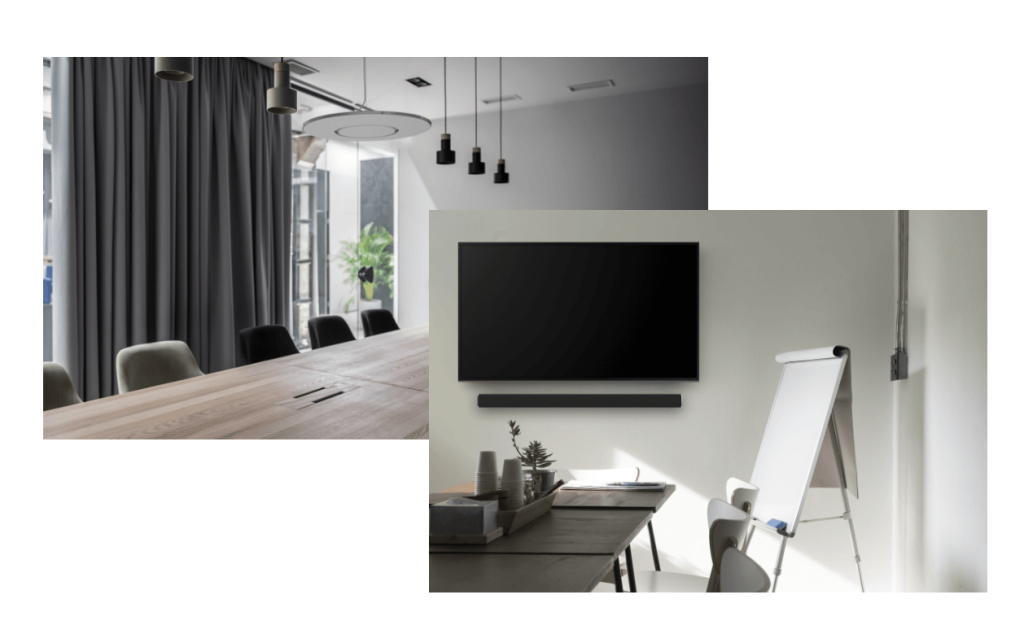 All At The Press Of A Button
Once you set up your room, just press the RoomAdapt button and we'll do the rest. In seconds your room is ready to go. So, say goodbye to spending hours tuning a room.
STEM Roomcheck
How RoomCheck Works
By listening to your voice, the noise in the room, and measuring the reverberation that your room acoustics produce, RoomCheck generates a heatmap highlighting the expected audio quality for different areas in the room. Now you'll know what to expect out of your audio from any area of the room.
How To Read Your Heatmap
Your heatmap will show you the varying ranges of audio coverage in your room by color variations. Wherever you see green on your heatmap you know you're fully covered. In areas where you see yellow, you still have enough coverage, and red zones show you spots where you could use a little more coverage.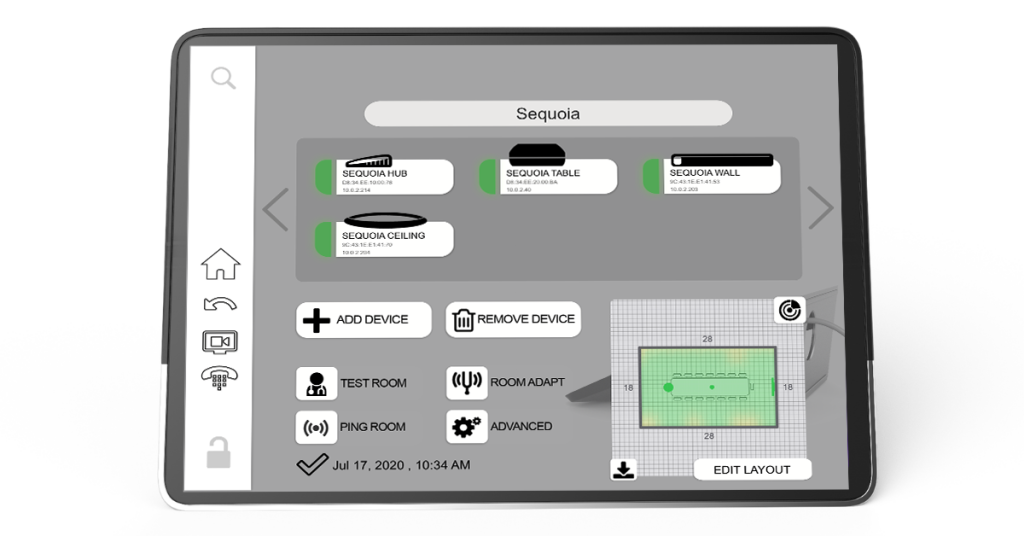 Save Your Heatmap For Later
After you've completed RoomCheck your heatmap will be saved to your room profile so you can refer back to it whenever you need to remember the coverage of the room.
Stem Remote Management
Keep Track Of It All
Whether you manage one conference room or thousands in your organization, you can see what's happening across your organization at any given moment, all in one place.
Say Goodbye To Manual Updates
When new updates are available, you can schedule them to update at a time that's most convenient for you.So, you can sit back, relax, and enjoy the freedom to control your rooms and devices exactly how you want.
Make The Most Of Your Reading Rooms
The Ecosystem platform provides you insights and data-rich statistics about room usage, performance, and more so you can see how your meeting rooms are being used.
Wise AV Solution has been established for more than ten years and has been dedicated to bringing our customers a comprehensive and quality service related to audio-visual equipment.
Do not hesitate to contact Wise AV Solution, the industry leader who attaches importance to quality and service.
Tel: (852) 3579 8586
email︰info@avsolution.hk
Website:https://www.avsolution.hk/