Wise AV Solution Limited has recently been authorized to install a brand new audiovisual interactive system in the experience centre of Hip Shing Hong Leasing. With a central control system, it supports one-click remote control of the on/off switch and playback channels of audiovisual equipment.

Our team provides a comprehensive range of video interactive devices, as well as full projection and audio systems, to assist in diverse activities within the venue. In addition, we have thoughtfully provided a central control system that connects and sets up the operation of all audio-visual equipment. This system not only supports one-click control of the system's on/off switch and volume adjustment but also supports the switching of playback signals and multi-channel playback. It can also control the display screen to play different video content or seamlessly switch screens. Customers can make adjustments according to the needs of the event to enhance the participants' experience.
For this audio equipment, we consistently use professional audio brand KEF, such as the stylishly designed Ci160QR architectural speakers installed on the ceiling of the venue. The ultra-thin and delicate frame allows the speaker's sound output to reach its full potential, combined with the brand's patented innovative Uni-Q coaxial point-source driver, which allows sound to propagate to a wider area. With only a small number of speakers, we achieve rich audio effects, providing participants with a clear and three-dimensional audio experience.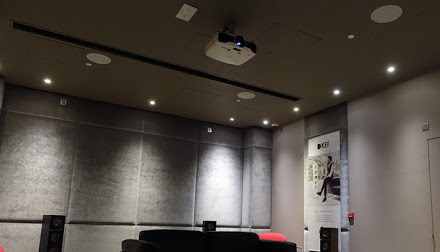 Wise AV Solution has been established for more than ten years and has been dedicated to bringing our customers a comprehensive and quality service related to audio-visual equipment.
Do not hesitate to contact Wise AV Solution, the industry leader who attaches importance to quality and service.
Website:https://www.avsolution.hk
Tel: (852) 3579 8586
Email︰info@avsolution.hk