The Hong Kong Police Force was not satisfied with the performance of the previous equipment placed in conference room. In order to enhance their work efficiency, Wise AV Solution installed eight 22" LG 22MK600M LED monitors and other related equipment, at the request of the Police Force.
22" LG 22MK600M LED monitor
A virtually borderless 22" LG 22MK600M LED monitor features FHD 1080p resolution. It also couples with typical 250 nit of brightness, and the contrast ratio of 1000:1 Mega. In addition, it supports Radeon FreeSync™ and In-Plane Switching (IPS) technology to deliver detailed and colourful images, and enable smoother motion. The 22" LG 22MK600M LED monitor offers reader mode that protects the users' eyes by diminishing blue light. With an easy-to-use LG On-Screen Control, the users can further adjust the monitor settings, such as volume and brightness.
Ergotron Neo-Flex® touchscreen stand
For the health of the staff, Wise AV Solution assisted the Police Force to mount the Ergotron Neo-Flex® touchscreen stands. The stands are suitable for screens smaller than 27" in the range of 6.4-10.8 kg. The simple operation allows the users to lift, tilt, pan and rotate the monitors to suit their needs. With the ergonomic and personalised setting, the users can maintain a good posture during a long meeting.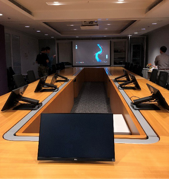 The monitors are equipped with Ergotron Neo-Flex® Touchscreen Stand.
To allow the monitors to display simultaneously, Wise AV Solution has installed the following equipment:
Kramer VM-8HN HDMI distribution amplifier
Kramer VM-8HN is a high performance HDMI distribution amplifier, fully compliant with HDMI 2.0 and HDCP 1.4 standards. It has a HDMI input, eight outputs and two additional HDMI LOOP outputs. The distribution is up to 4K@60Hz (4:2:0) video resolution signals. In this project, the 22"LG 22MK600M LED monitors can be connected in a daisy chain, and requires only one monitor to be connected with the computer. It reduces the number of cables and remain a tidy and neat table.
Kramer TP-580T HDMI transmitter & Kramer TP-580R HDMI receiver
The TP-580T transmitter and TP-580R receiver are long-reach HDMI extenders with aluminium design. With compliance to HDBaseT 1.0, HDMI 2.0 and HDCP 2.2, both support 1080p @60Hz 36bpp and 4K @60Hz (4:2:0) video resolution over maximum distance of 70m and 40m, respectively. They also feature multi-channel audio extension (up to 32 channels), directional RS-232 extension and bidirectional infrared extension.
Kramer VS-411UHD HDMI switcher
The VS-411UHD HDMI switcher is ideally designed for presentation in conference rooms. It is a HDMI 1.4, HDCP and DVI 1.0 compliant HDMI switcher that can be switched automatically or manually to the last connected or pre-set input. Also, it supports Kramer reKlocking™ technology and Step–In over HDMI technology. The data rate is up to 8.91 Gbps, and the resolution is up to 4k@60Hz (4:2:0). It has four HDMI inputs, four stereo analog audio inputs, one HDMI outputs and one balanced stereo audio output. The users is able to connect it with other audio devices.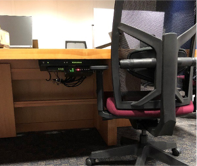 The equipment is placed under the desk.