Wise AV Solution Limited strives to offer the best user experience to our business partners while upgrading corporate image and improving staff efficiency. And our team are going to provide several technical Room Booking systems, which consist of software for room scheduling, hardware interfaces and digital signage. They are Crestron room scheduling, Evoko Liso, Reserva Room Signage, Teem and Tribeloo.
Crestron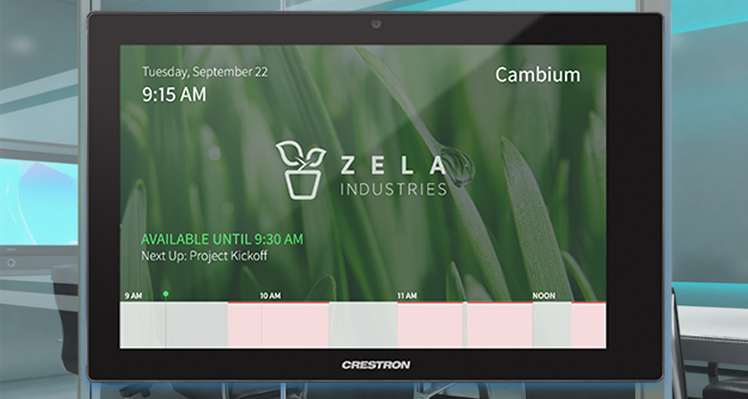 Crestron room scheduling makes it simple to locate your own meeting space. It offers a complete platform and runs the built-in software you prefer, that directly connects to Exchange, Office 365 and Suite.
Crestron has a range of touch screens designed for use in the modern workplace. They are 7″ Scheduling and 10″ Scheduling, which contains black and white colors in both. While they are able to provide room availability indicators for illuminate signage, which makes it easy to find meeting rooms. The indicators serve for touch Screen Light Bar, Room Availability Status Indicator and Room Availability Hallway. While Crestron provides different GUIs that suits every situation, basically serving for reserve on the spot, day at a glance, meeting information and check-in, extend or end the meeting.
Evoko
Evoko Room Manager supports the original touch-screen solution for all meeting rooms. While Evoko Liso, the meeting room booking system, is a perfect partner for co-working collaborative environments. It does not require any additional booking system, and you can book rooms with favorite digital calendar.
This system supports a color coding system which indicates the current situation of room availability by green, amber and red light aura. It helps avoid double booking. Better still, the Evoko Liso remains in passive mode to show a clock interface with most updated room availability. And it would turn into Active mode when the proximity sensor is triggered and provides some options, including book new meetings, extend/end ongoing meetings etc. It can also be used to search for other rooms based on availability, size and equipment through calendar. Moreover, Evoko Liso presents all information elegantly on the display and immediately updates the screen when someone walks into the room, which always shows the most relevant information.
Reserva
While Reserva Room Signage provides platforms to take control of your meeting spaces, which dynamically links to your calendar system and helps book meetings and conferences more efficiently.
Reserva room signage clearly shows the current status of room availability along with a summary of information about scheduled meetings. Besides, the user can book a meeting within two clicks, as well as easily extend / shorten or cancel reservations from Reserva interactive touchscreen. It also provides a comprehensive service for room resource management. If a user experiences issues with resources e.g. projector or VC facilities, they can quickly and easily report these from the Reserva Room Sign. Moreover, the Meeting check in functionality also helps manage 'no show'. It certainly improves workspace utilisation. Apart from them, it obtains a full multi-zone digital signage capability, which can be used for launching advertisements or notifications of corporations. There is a range of Reserva Room Sign provided. They are Reserva Gen 1: 10" Android based Reserva room signs for small cost sensitive projects; while Reserva Edge: 10" Linux NTB based Reserva room sign and Large format Reserva room signs: 15.6" and 21.5" display for SMB, enterprise and education networks.
Teem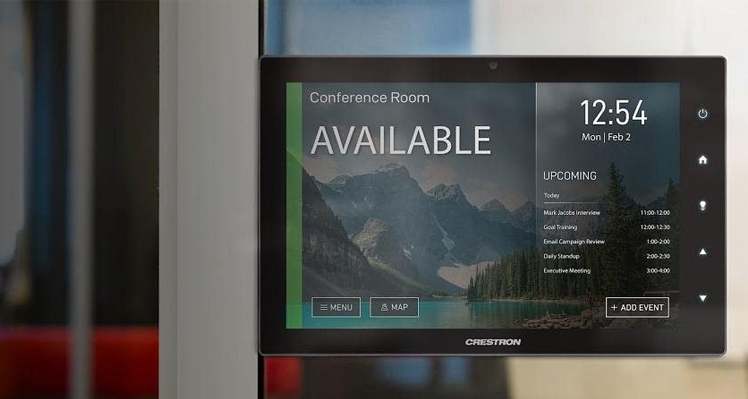 Teem offers intelligent tools and powerful workplace analytics to optimize your most valuable resources, which would be installed on Crestron scheduling touch screens.
With Teem, employees can make reservations, view upcoming meetings, report issues with conference room technology, consult an interactive isometric map and check-in/out of a meeting from Crestron touch screen. The users can view and book all rooms from either touch screen or their digital devices, in which all thanks to seamless integrations with popular calendars like Microsoft Exchange™, Office 365, Outlook and Google apps. Users are also able to operate touch panels efficiently via a web-based dashboard. Meanwhile Teem and Crestron motion sensor integration brings efficiency to next level, such as automate room check-in, enable occupancy-based booking and huddle space occupancy detection.
Tribeloo
Their Cloud-based Desk and Meeting Room Booking Solution brings teams together and constructs an effortless workspace allocation.
Tribeloo helps the users find a place or manage their reservations through mobile app & web booking solutions. With Tribeloo, users can enjoy seamless integration with the Outlook add-in and G Suite extension, in which they can book and review reservations directly in the preferred calendar app. There are sorts of functions that enhance the working efficiency including check out the news or subscribe to an upcoming event and share this with teammates. Advanced features could also be offered, such as actionable dashboard and data-driven insights, that readily adapt to all your needs. Meanwhile the OFFICE MANAGERS in Tribeloo are equipped with automatic, data-driven tools that help optimize space usage and keep control of all bookings.
Do not hesitate to contact WiseAV Solution, the industry leader that attaches importance to quality and service.
Tel: (852) 3579 8586
Email: info@avsolution.hk