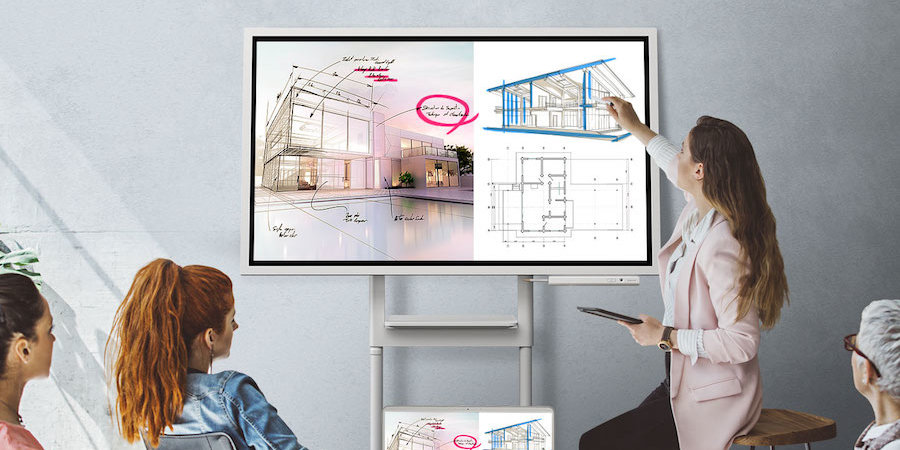 Say goodbye to unwieldy paper flipcharts, messy whiteboards and smelly markers. Say hello to the Samsung Flip 2 digital flipchart.
With features that greatly enhance today's fast-paced and digital-centric workflow, this Samsung flip board is an interactive, touchscreen digital display that allows teams or students to hold and recap meetings or classes with incredible ease. It drives greater collaboration, expands presentation capabilities and is ideal for all types of meetings, training or group brainstorming. Go far beyond paper and markers. Go further with the Samsung Flip 2.
Which Samsung Flip 2 digital flipchart is right for you?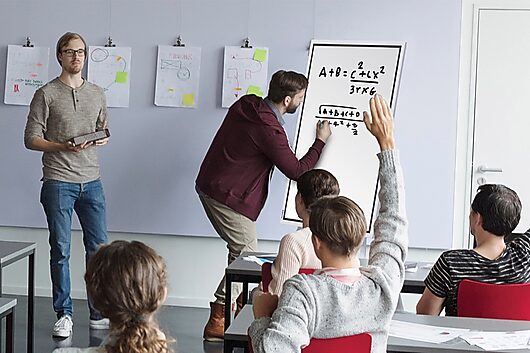 Samsung Flip 2 55"
The versatile, portable digital flipchart
Designed for small conference rooms, classrooms and huddle spaces. This portable, digital flipchart offers an optional wheel-based stand and tray that lets you hold meetings anytime, anywhere with ample working space.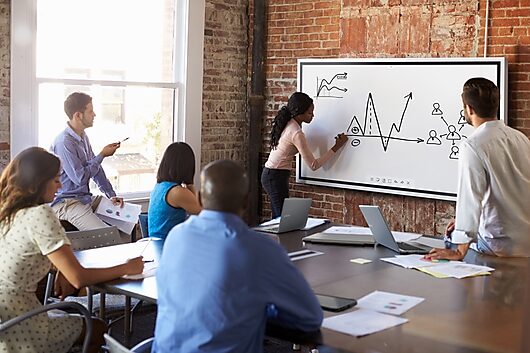 Samsung Flip 2 65"
The wall-mounted interactive flipchart
Designed for businesses and schools of all sizes to use in large conference rooms or classrooms. This interactive display is meant to be mounted on a wall with our no gap wall mount and features the ability to work with a Bluetooth keyboard.
Creative thinking in business and education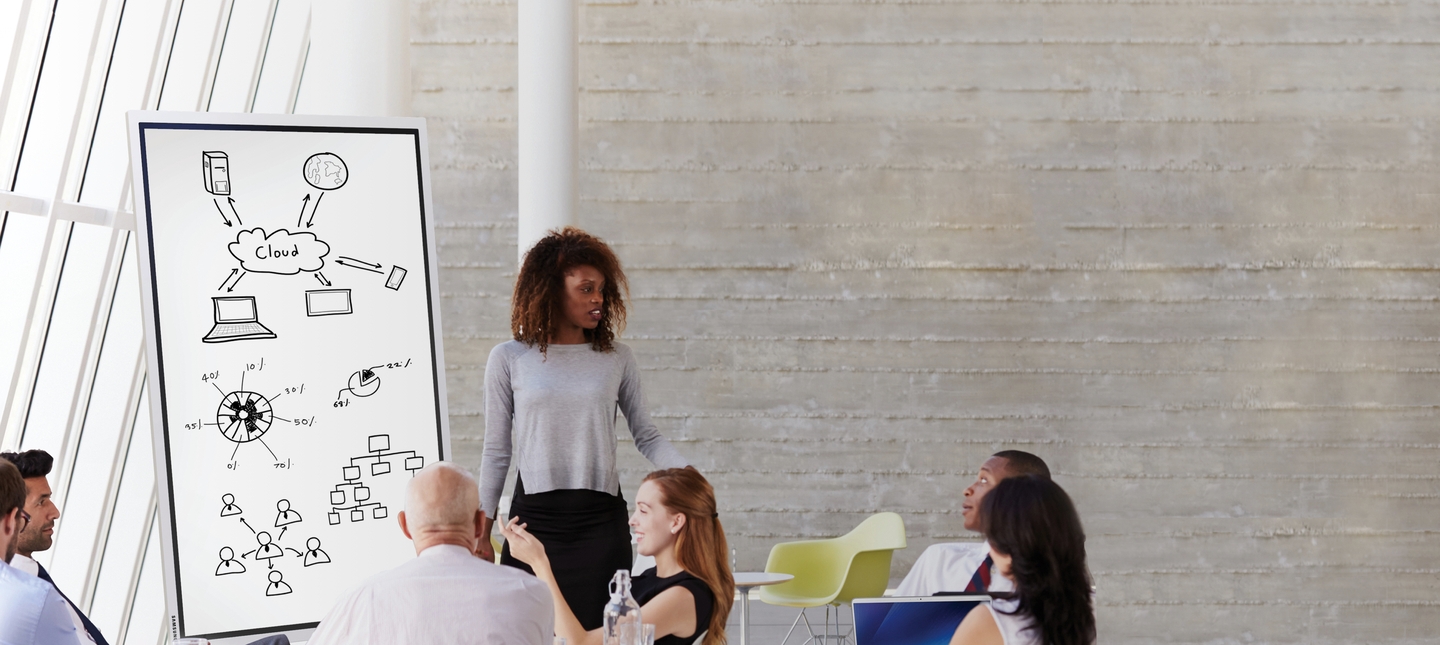 Draw, write & inspire new ideas
The Samsung Flip 2 digital flipchart provides smooth and familiar pen-to-paper-like writing in a variety of colors, styles and widths. Up to 4 people can write simultaneously and erase drawings with a finger or palm swipe.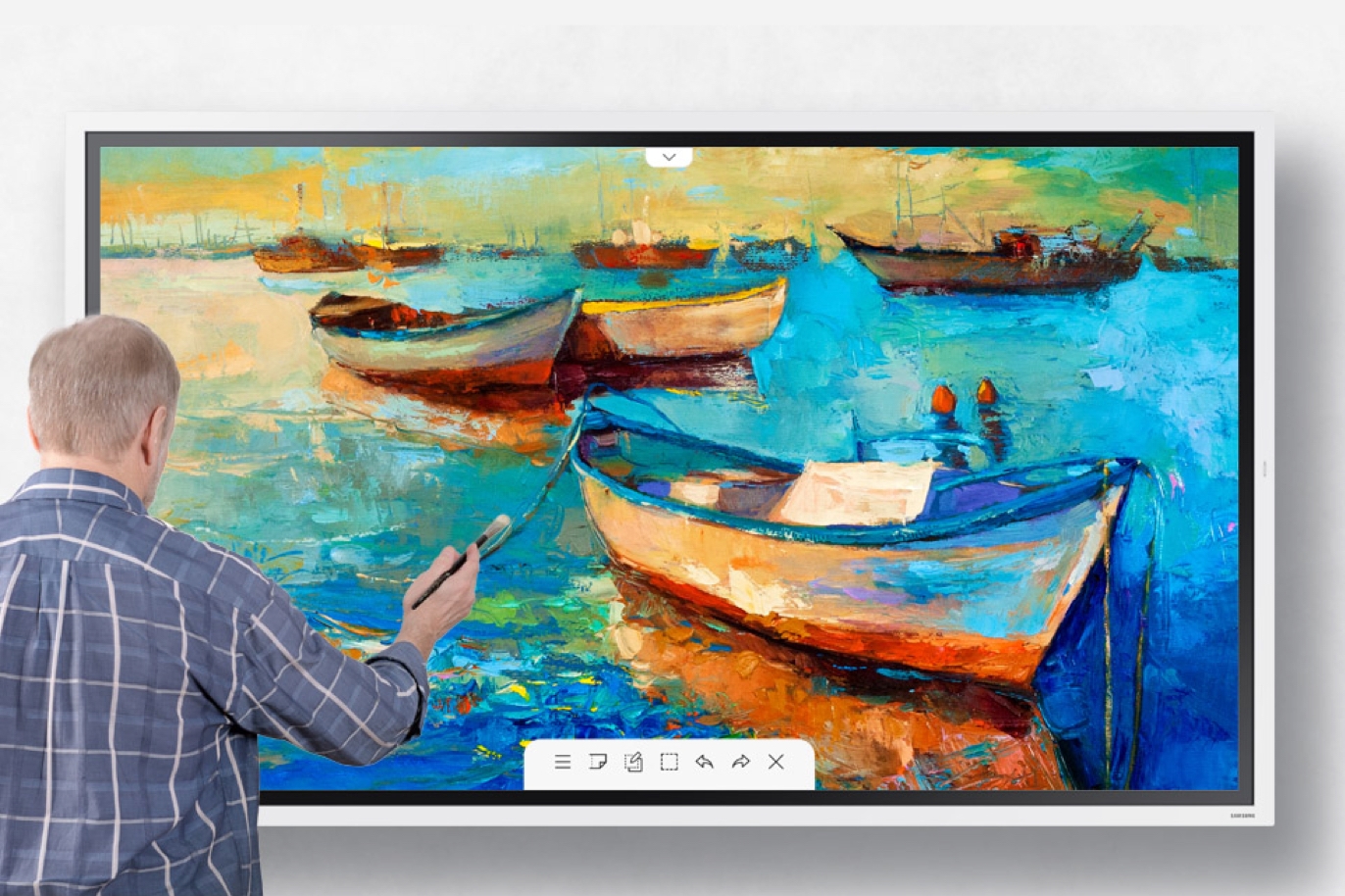 Creating a masterpiece with brush mode
With Brush Mode, the Samsung Flip 2 recognizes a wide range of thicknesses, so you can create art at the stroke of a brush. Water and oil painting modes allow different styles and textures, while the Flip 2 also gives you a full, vibrant color palette, even allowing for flexible color mixing.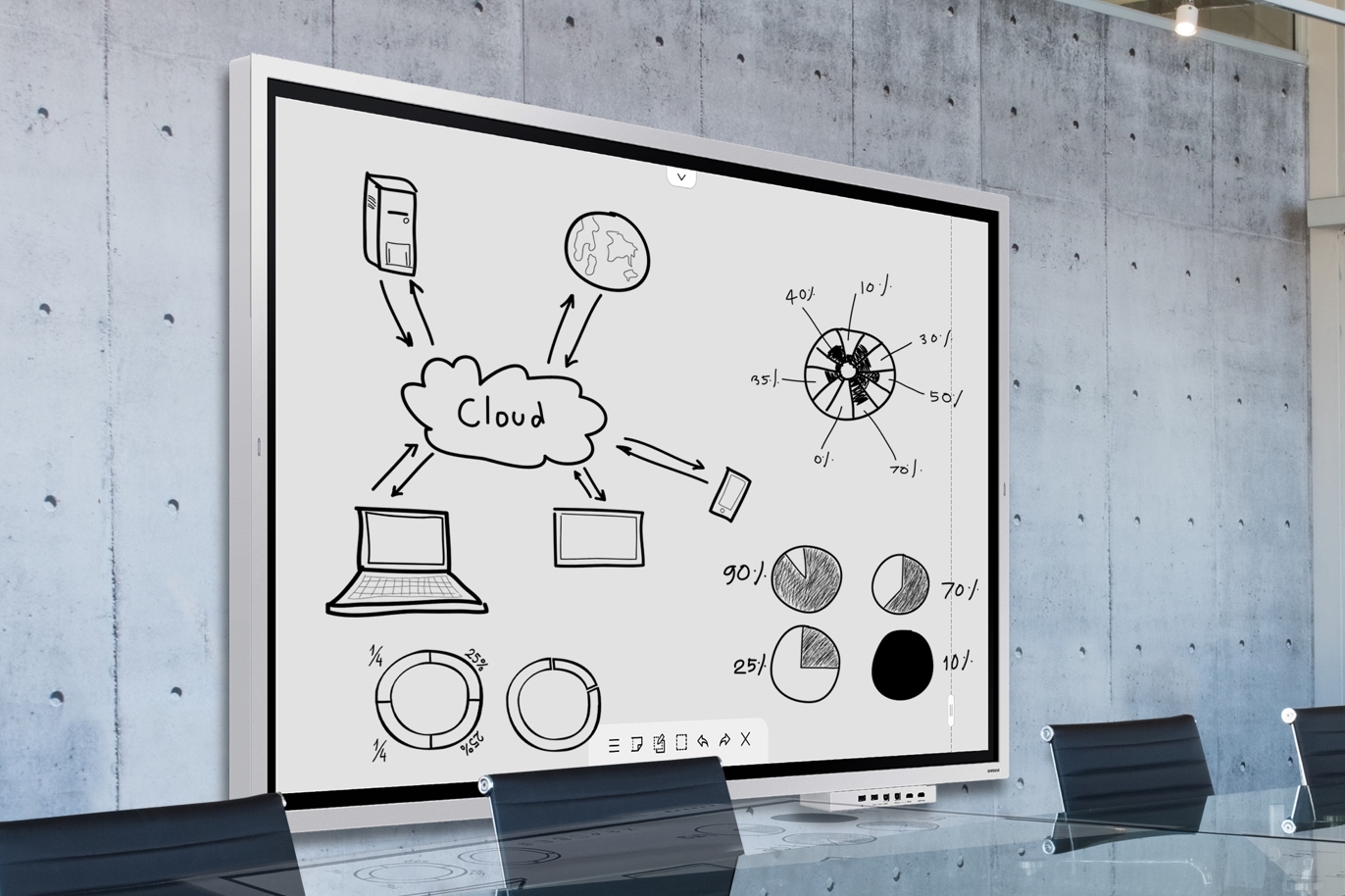 4K UHD ensures crisp, captivating images
Every presentation, every image and every video will be reproduced clearly and accurately. 4K UHD resolution and Samsung picture technologies ensure it. Backed by the powerful Tizen 5.0 operating system for a seamless user experience, embedded sensors automatically activate the display when the screen is knocked.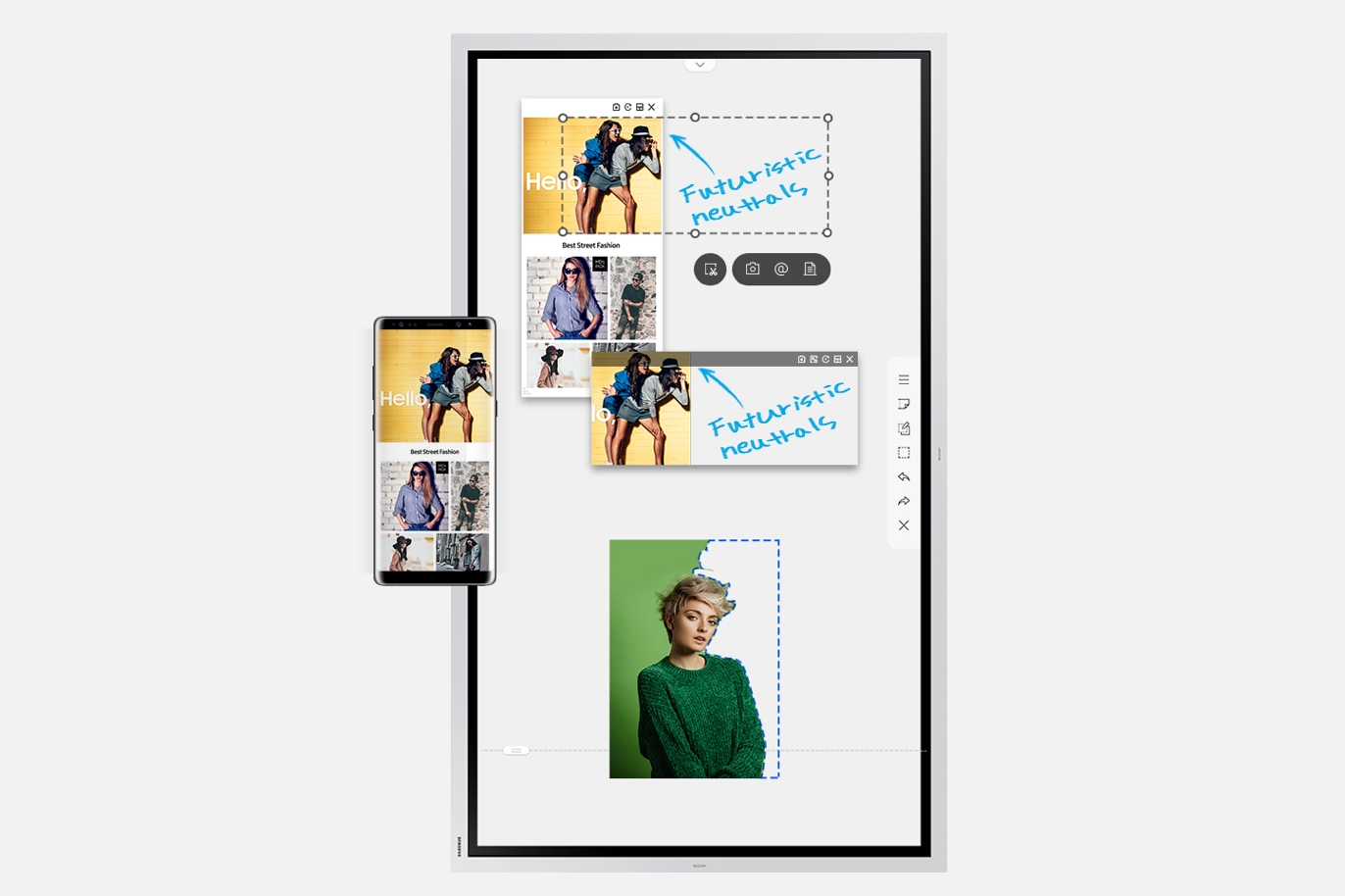 Flexible image editing
Bringing versatility to the board. With the Samsung Flip 2 display, you can quickly and easily select, move, crop, capture and edit any images. Each image can also be merged to the digital note roll with just one click of a button, allowing it to be edited or erased.
Team and student collaboration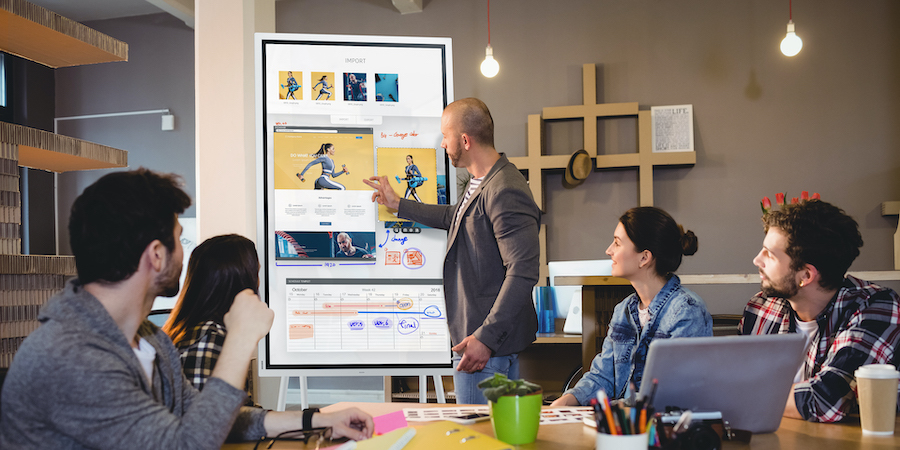 Annotate with ease
The Samsung Flip 2 allows you to write on any background source. By simply clicking the note layer button, you can enjoy smooth writing anytime, anywhere on any content displayed, without affecting any work behind the original layer.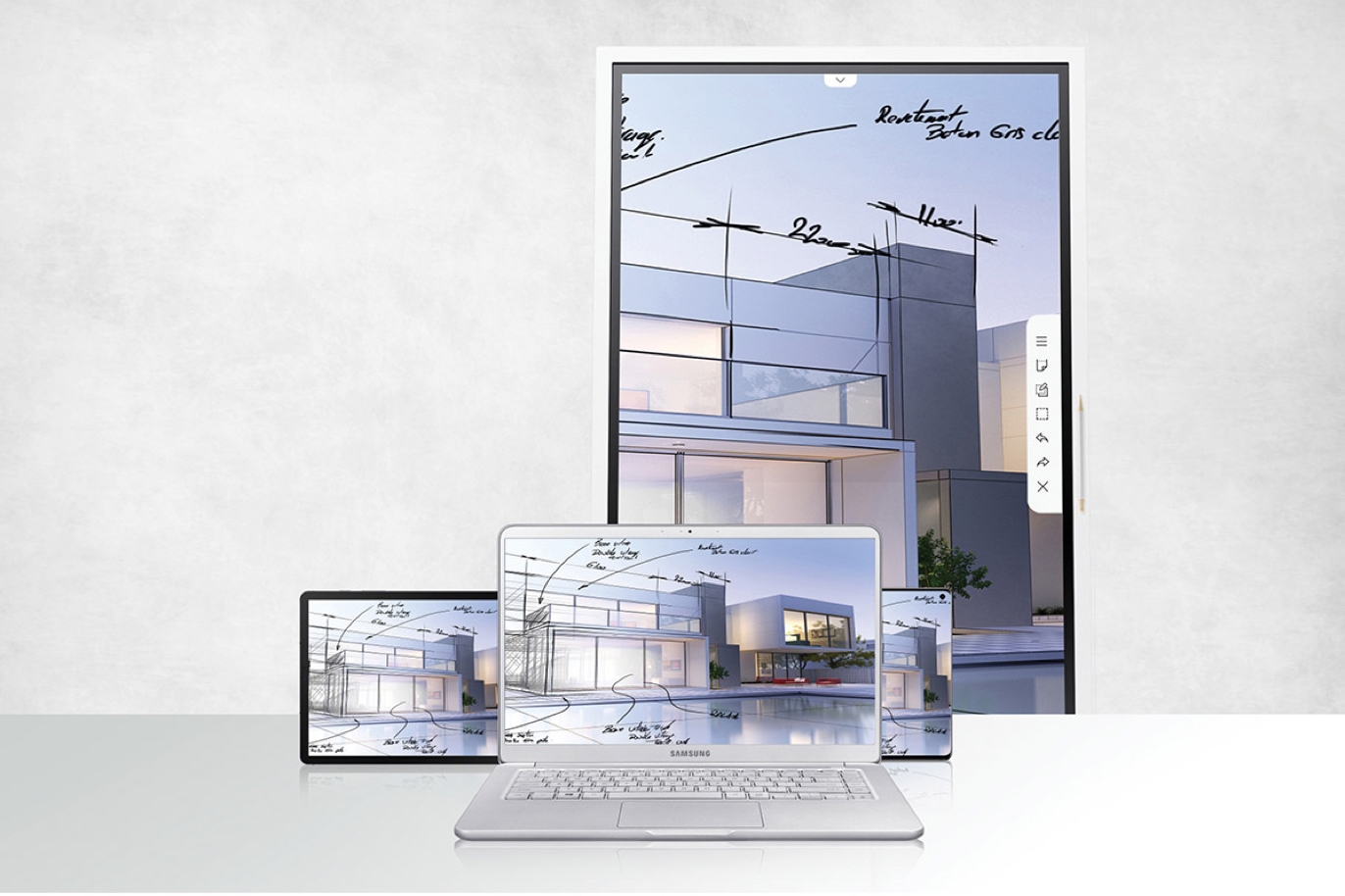 Quickly and easily import content to share
The touch out functionality allows your team to sync their personal devices with the Samsung Flip 2 for real-time content sharing and control. Any changes made on the digital flipchart will be mirrored on the connected device, and vice versa, for efficient collaboration.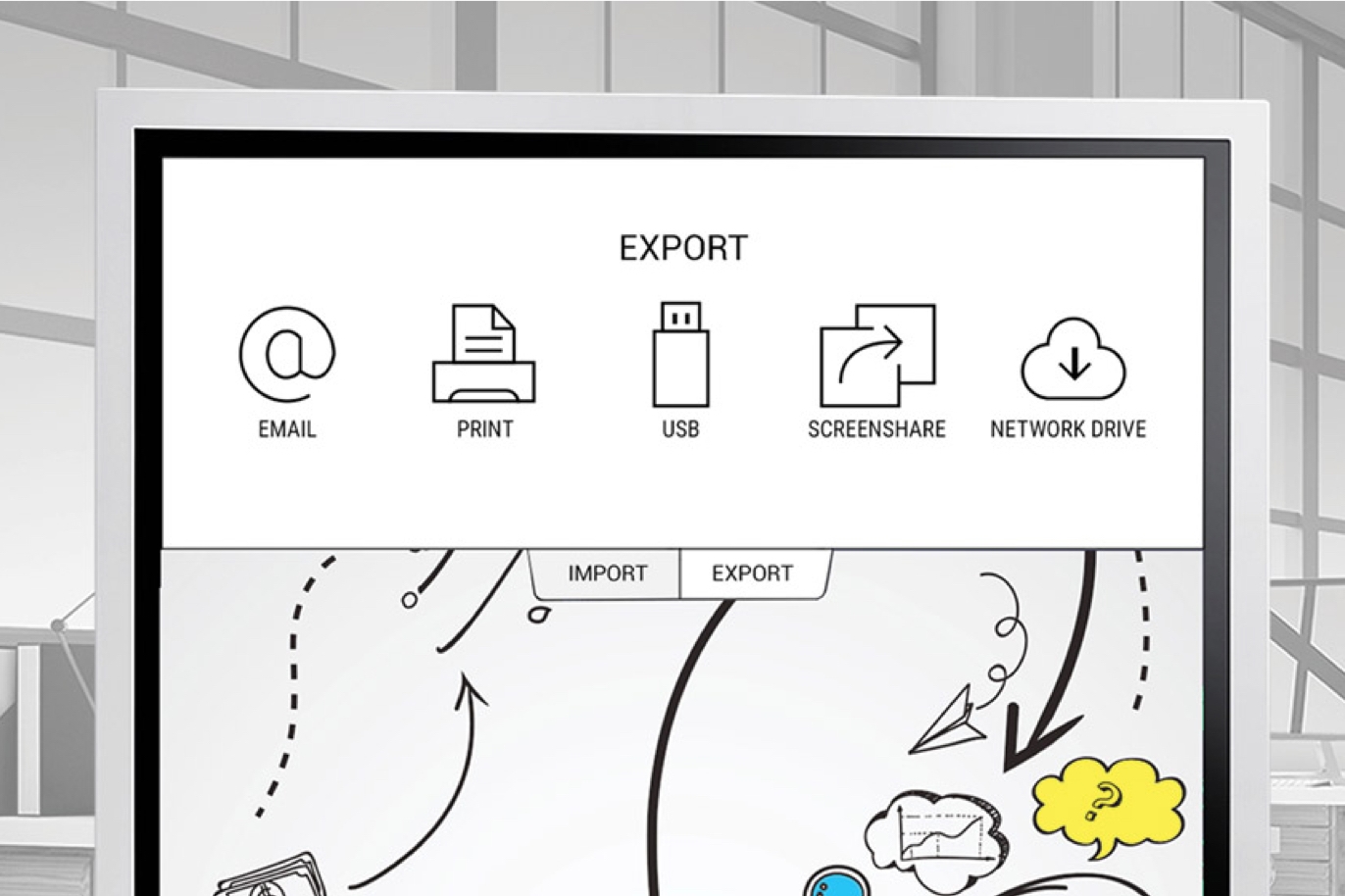 Instantly distribute meeting notes
The Samsung Flip 2 makes it simple to save and distribute notes to all attendees and colleagues. No more taking pictures of paper pads and whiteboards or tasking one person to accurately consolidate all the notes. This digital flipchart stores your meeting securely, then lets you share all the notes via email, network, thumb drive or even printouts if you want.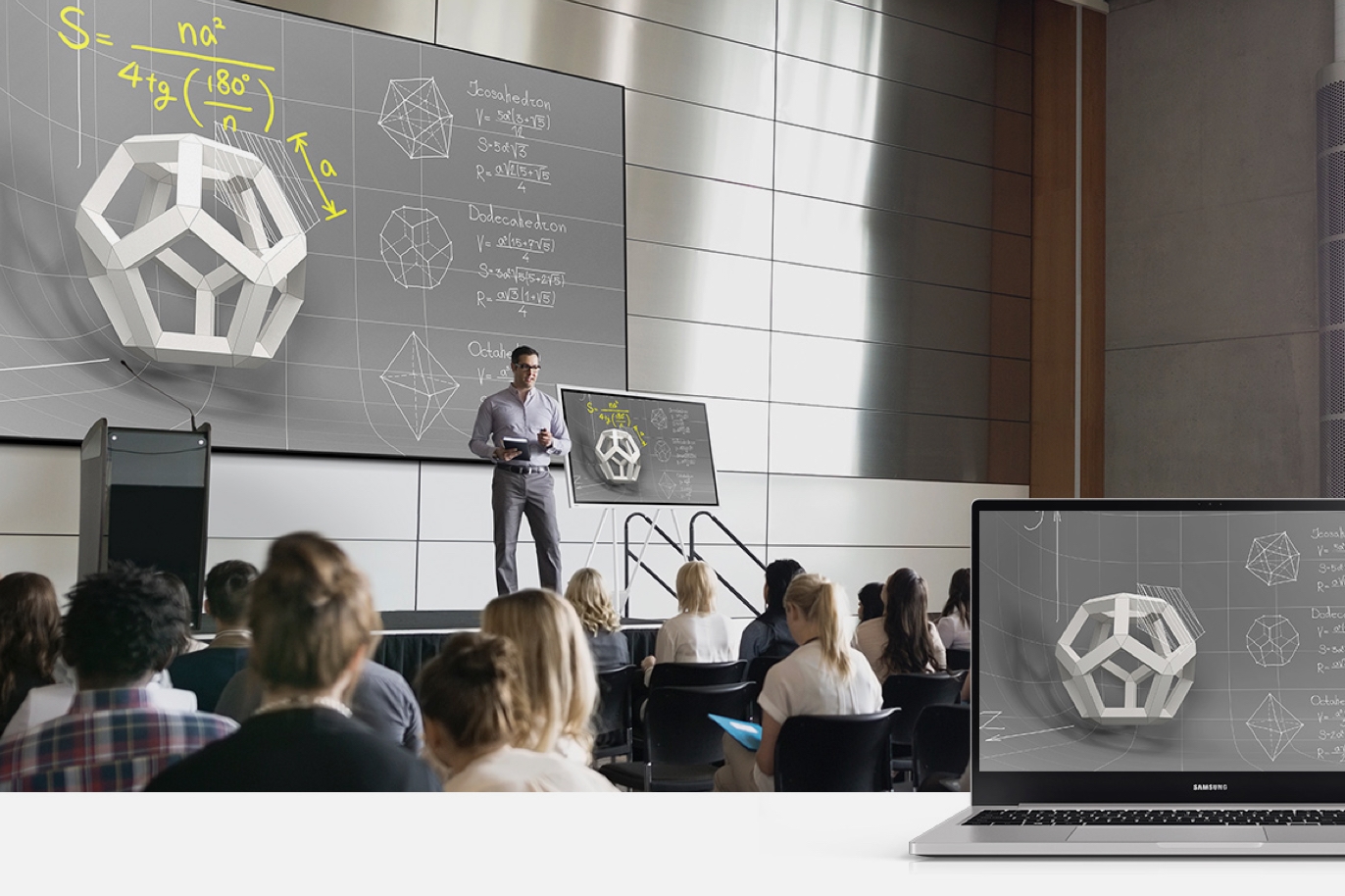 Large audience sharing with screen share
You can project content on the Samsung Flip 2 to another large digital display in real time, using a Wi-Fi network or HDMI out connection. This feature is ideal for large meeting environments to deliver information to bigger audiences.
Versatile connectivity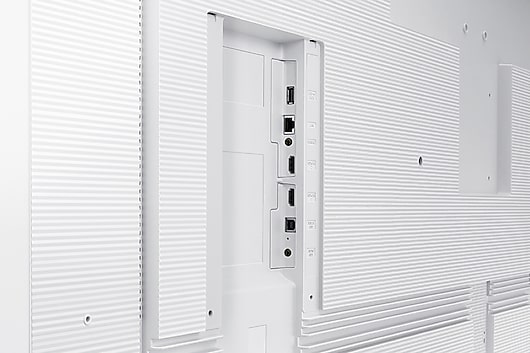 Empower your team with versatile connection options
USB, HDMI, NFC and screen sharing capabilities enable optimum collaboration and provide interactive content visibility, notation and sharing.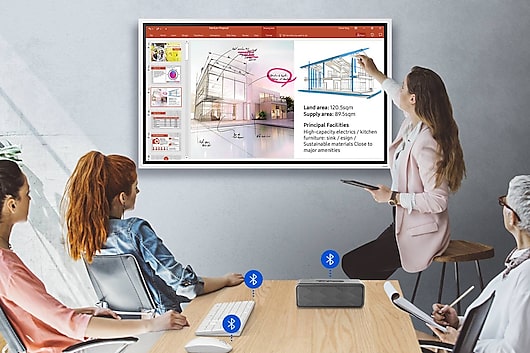 Empower your team with versatile connection options
USB, HDMI, NFC and screen sharing capabilities enable optimum collaboration and provide interactive content visibility, notation and sharing.
Your content is safe and secure
The Samsung Flip 2 display securely stores all your meeting pages and notes when your meeting is done. A password-based protection system safeguards meeting details and helps to ensure only authorized users can access the content.
Convenient, optimized management
The Samsung Flip 2 offers a host of capabilities, including secure wireless connection, automatic firmware updates, LDAP synchronization, file security and remote management—helping to ensure a convenient and productive meeting experience.