For wireless presentation systems that offer a seamless, user-friendly and hassle-free experience, look no further than the Barco ClickShare range. With ClickShare, you can share presentations in an easy and straightforward way, without having to fiddle around with wires, cables and adapters.
Connectivity makes all the difference in the modern business world. ClickShare from Barco helps you to ensure that your teams are working in close partnership, facilitating enhanced collaboration and allowing for the easier sharing of knowledge and expertise – as well as saving unnecessary time and effort.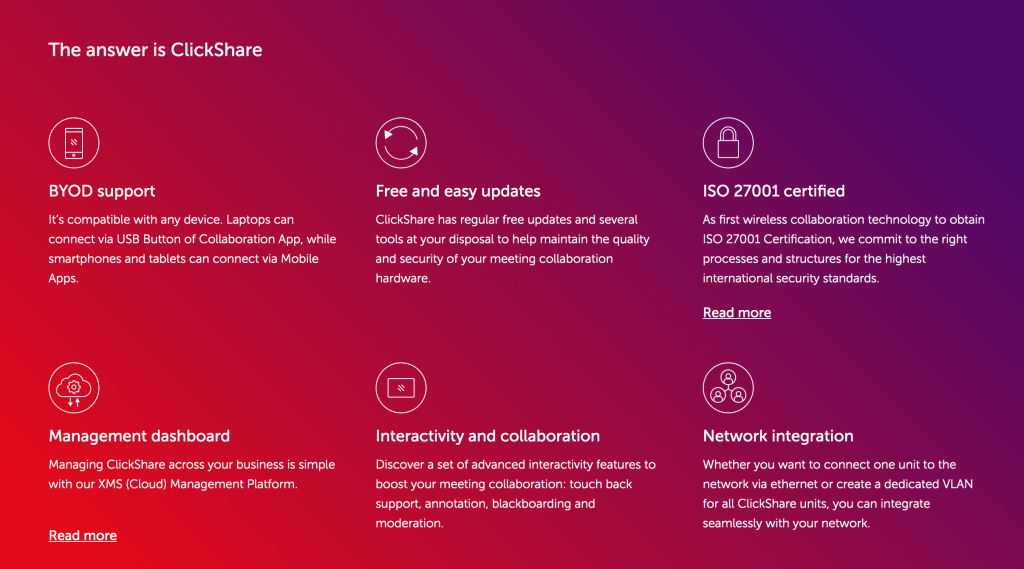 What is ClickShare and what does it do?
The wireless presentation technology of ClickShare allows for intuitive, easy-to-use presentation and collaboration. It allows participants to bring their own devices without having to physically link them using cables and adapters, providing valuable flexibility in addition to convenience.
The ClickShare range, as well as supporting professional presentation software, comes equipped with a host of features to help you and your team get more out of your presentations, encouraging closer collaboration and allowing for a more engaging experience all around.
ClickShare CS-100 Huddle
Wireless presentation system for huddle spaces
Wireless connection to central screen
1 user on-screen
Share from laptop, tablet or smartphone
HDMI output
ClickShare CS-100
Stand-alone wireless presentation system for small meeting rooms
Wireless connection to central screen
1 user on-screen
Share from laptop, tablet or smartphone
HDMI output
Delivered with 1 Button
ClickShare CSE-200
Wireless presentation system for small to medium sized meeting rooms
Wireless connection to central screen
Up to 2 users on-screen
Share from laptop, tablet or smartphone
Enhanced security features
Touch back support
ClickShare CSE-200+
Wireless collaboration solution for creative content-sharing fit for enterprise roll-outs
Up to 2 users on-screen
Share from laptop, tablet or smartphone
Smooth switching between wired and wireless sources
Enhanced security features
Annotation, blackboarding and touch back support on a 4K canvas
ClickShare CSE-800
Wireless presentation and collaboration system for boardrooms and conference rooms
Wireless connection to central screen
Enhanced security features
Up to 8 users on-screen simultaneously
Share from laptop, tablet or smartphone
Moderation, blackboarding and annotation